I love decorating my Christmas tree. I love pulling out all the ornaments year after year, and finding the perfect spot for each one. Like many people, the ornaments hold memories: some good, others funny, and one in particular is the most bittersweet.
It's the heavy silver "Book" that says "Baby's First Christmas," and inside is a little black and white picture of Lily that my sister-in-law put in it before she gave it to me. Every year, when I pull that ornament out, I turn it over and over in my hands. I open it, look at that faded photo, and smile despite the burn of tears in my eyes. Yes, it was Lily's first Christmas.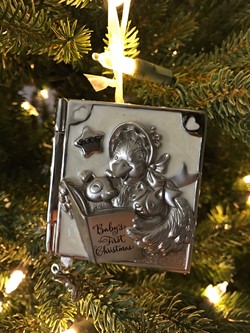 It was supposed to be full of wonderful memories of her opening her presents with our help, and our first Christmas as parents to this baby girl we had been waiting for all these years. But our first Christmas had a big, black, angry shadow over it.
Every memory of that Christmas in 2005 is tainted by my mesothelioma diagnosis. I look back at photos and I can see the tell-tale signs that my body was fighting the cancer that was growing in it. I was a little too pale, a little too thin, and the smile I had in many of the photos didn't quite reach my eyes. The weight of what I was facing weighed heavily on me and my husband and our hearts really were not in the holiday spirit that year.
Even though Lily was just a baby, we still wanted to try and make it special. I still remember that first Christmas morning, just the three of us. It was hard, I won't lie, and I was glad that we could just be together.
Making Sense of Your Diagnosis
I often think back to that time, and how, even though there is no such thing as a good time for a cancer diagnosis, when it comes around times of celebration, it seems to make it that much harder to deal with.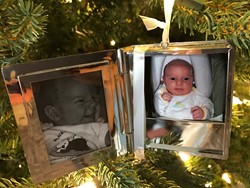 Every holiday season since that fateful year, I do my best not to dwell on the past. We survived that season, and have gone on to have many great Christmases since. Once again, cancer struck our family in November 2014. My dad was diagnosed with clear-cell renal carcinoma a few weeks before Thanksgiving, having had surgery on his spine, thinking it was a herniated disc, only to find tumors on his spine.
Our usual holiday plans were once again overshadowed by an uncertain future. My dad ended up having some complications after surgery, so he had to spend a lot of time in the hospital. We adjusted our plans and made things the best we could. My parents live 600 miles away, so spending the Christmas with them was not an option, but Lily and I flew out after to bring in the New Year with my parents. Little did we know, this was our last with him.
It's easy to get depressed and upset about things over the holidays. The stress of trying to get everything done, and deal with family can really overshadow what the holidays are really about. Throwing a cancer diagnosis into the mix just makes everything different.
The ripples were felt in every activity. Our Thanksgiving was much more somber, as was our traditional family Christmas Eve. I could tell everyone was worried, but didn't know how to act, and everyone seemed to walk on eggshells for fear of upsetting me. I felt responsible for everyone's mood and basically it just added to the whole blah feeling.
Be Upfront and Honest
Having been through it – they say hindsight is 20/20 – by the time my dad was dealing with his diagnosis, we were better equipped to deal with everything. My main piece of advice is this: Be upfront and honest. Yes, I had cancer, but everyone pitying me and walking on eggshells around me just made me uncomfortable. I already felt bad, and their feeling bad made me feel worse! I wish I had said, "HEY! I know this sucks! I know this isn't what we wanted. Yes I'm scared, but let's just be upfront and honest about everything."
We were able to be like that with my dad and it seriously made things less stressful. We talked about things and connected on a much deeper level. Dad was able to talk to me about things that no one else understood, because I had been through it.
Getting through the holidays with the weight of treatments, not feeling well, perhaps recovering from surgery, is not easy, and it's ok to let other people handle stuff. Many people I know decide to celebrate Christmas on their schedule, not actually on the day, because they knew they wouldn't feel great on the actual day. Sometimes it is all you can do to get through a day, let alone a big holiday, especially with all the people and the foods for mesothelioma patients to avoid. It's overwhelming.
It's okay to bow out if you need to. So many people put unreal expectations on holidays, and sometimes it's just not attainable. When my dad was sick, Lily started to get upset that her grandparents weren't going to be with us at Christmas like they always were, so I just sat down with her and explained why. I didn't dumb it down, nor did I sugarcoat things. Kids are incredibly perceptive and I felt as though she deserved the truth. Plus it was a good lesson for her to adjust her expectations. It was not the Christmas she was used to, but we were together and still had a good time.
There is no right or wrong way to celebrate the holidays with a cancer diagnosis in your family – but what I learned is that it should be on your terms. If you don't feel festive, forcing yourself isn't the answer. Do what feels right to you, and know that this is temporary. There will be other holidays, and you won't always feel this way.
My advice? Do the best you can in spite of the circumstances. You will know what is right for you and your family. Then in a few years, when things are looking better, you can look at how far you've come and see how much you learned. Then, you'll know that if you can make it through that, you can make it through anything.
Resources for Mesothelioma Patients