The MCA Blog
Heather Von St. James
Courageous Mother, Wife and Survivor of Mesothelioma
Author: Heather Von St. James
Date: 9/18/2018
Every once in a while, you get an email that makes you yell out loud. I received one of those emails a few weeks ago, and I literally screamed when I read it.
Author: Heather Von St. James
Date: 8/30/2018
The Mesothelioma Cancer Alliance is saddened to learn of the passing of renowned mesothelioma expert, Dr. David Sugarbaker. Dr. Sugarbaker accomplished a lot in his lifetime, dedicating his career to finding a cure for pleural mesothelioma.
Author: Heather Von St. James
Date: 7/19/2018
The Mesothelioma Applied Research Foundation recently held its regional symposium in Minneapolis, and I was thrilled to only drive 10 miles to the hotel it was being held, since I live in a suburb of Minneapolis/St. Paul. Every other year, the Meso Foundation takes its "show on the road" for smaller, more intimate gatherings to spotlight regional medical facilities and healthcare professionals. As most everyone knows, we happen to have the world-renowned Mayo Clinic just minutes south of the Twin Cities.
Author: Heather Von St. James
Date: 5/7/2018
Whenever I meet someone new, whether through my volunteer work or advocacy work in Washington D.C., they are almost always surprised that asbestos is not banned, and is still being imported and used today. I've learned that many people just assumed that it was banned back in the 1980s when the Environmental Protection Agency (EPA) introduced legislation that would ban nearly all uses of the toxin. Unfortunately, many people don't realize that law was overturned just a few years later, so asbestos is still legal to use today in certain products.
Author: Heather Von St. James
Date: 10/24/2017
September always proves to be a busy month for me, and this year was certainly no different! As much as I try to pace myself, it always seems as though all the things happen at once. September is usually busy for one important reason: Mesothelioma Awareness Day.
Resources for Mesothelioma Patients and Their Families
Author: Heather Von St. James
Date: 5/8/2017
Through my years blogging for the Mesothelioma Cancer Alliance, I have had some pretty amazing opportunities to get my story out there through blogs, opinion pieces, and most recently an interview and video with Greenpeace. Why Greenpeace you might ask? What does an organization better known for saving the whales have to do with mesothelioma and asbestos?
Author: Heather Von St. James
Date: 2/3/2017
My husband and I have been throwing our Lung Leavin' Day Celebration ever since 2007.
The first year it was just the two of us, in subzero weather, with our plates, by a pitifully small bonfire. But we did it, we wrote our fears in sharpie and smashed the plates. You know what? It felt AMAZING!!!
Author: Heather Von St. James
Date: 12/15/2016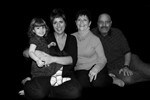 I love decorating my Christmas tree. I love pulling out all the ornaments year after year, and finding the perfect spot for each one. Like many people, the ornaments hold memories: some good, others funny, and one in particular is the most bittersweet.
Author: Heather Von St. James
Date: 11/15/2016
No matter how good I feel on a day-to-day basis, every six months, the reality of being a long-term cancer survivor comes crashing back. Even though I'm going to be celebrating 11 years since my diagnosis on November 21, I still get uneasy when the time comes around for me to get on a plane, head to Houston for my scans and to see Dr. Sugarbaker.
Author: Heather Von St. James
Date: 11/1/2016
September was such a jam-packed month of mesothelioma awareness activities, that it's now taken me more than a month to even process it all and get it all written down. In addition to participating in Mesothelioma Awareness Day on September 26th, I went to three different events throughout the course of the month. You can read about my experiences at the Kayaking 4 Meso and Miles for Meso events.
Next >