The MCA Blog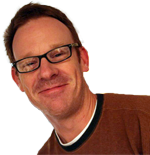 Cameron Von St. James
Husband of Mesothelioma Survivor Heather Von St. James
Author: Cameron Von St. James
Date: 10/1/2015
When my wife, Heather, began her battle with cancer, I was fortunate enough to be able to be with her for her surgery in Boston. But when cancer strikes a family, life unfortunately isn't put on pause. Having to return to work while she went through her recovery process left me feeling helpless. However, I quickly learned that just because I was far away, didn't mean I couldn't still care for her in a meaningful way.
Author: Cameron Von St. James
Date: 3/5/2015
In The Beginning
Lung Leavin' Day began as a way to deal with stress and as a way to cope with mesothelioma. The idea of Lung Leavin' Day came just after Heather's second biopsy, which confirmed her mesothelioma diagnosis. At a time when we should have been celebrating the start of our family and getting to know our new baby daughter Lily, who was born 3 months earlier, we were in a hospital far from home fighting cancer. There was a lot to be stressed about.
Author: Cameron Von St. James
Date: 1/22/2015
Talking about cancer is never easy, but talking about cancer with your children may be one of the most difficult conversations to think about having. It's one of those things no parent plans on having to deal with.
Author: Cameron Von St. James
Date: 1/23/2013
Becoming a caregiver started the moment my wife was diagnosed with mesothelioma cancer. Like many others, my wife and I were not prepared for the news she had cancer. A little over three months prior to my wife's cancer diagnosis, we had celebrated the birth of our only child, our daughter Lily. We had assumed we would be settling down to our new lives as parents, not dealing with a cancer diagnosis. The diagnosis shattered our lives.
Author: Cameron Von St. James
Date: 12/20/2012
Originally, I intended to write this post on a different subject. I had finished the article and asked my wife to proofread it. The article was about a trip I took when my wife and daughter were on vacation. I had taken some time to myself to cross an item off my bucket list while they were gone. My wife read the article and then commented she was glad I took the trip. She pointed out that too many caregivers do not take time out for themselves; they get so wrapped up and consumed caring for loved ones diagnosed with cancer that they fail to take care of their own needs. Which got me thinking – what does it mean to be a caregiver?
Resources for Mesothelioma Patients and Their Families
Author: Cameron Von St. James
Date: 10/25/2012
Previously, I have written about how my wife Heather's mesothelioma diagnosis has changed my outlook on life, how my values have been altered, and how I now look at life a little differently. This is something I have seen in many people and will be a topic of future blog posts. Today, I want to write about how my thoughts and feelings of past events have changed with time.
Author: Cameron Von St. James
Date: 9/20/2012
A diagnosis of cancer is sure to shatter anyone's world. My wife, Heather, and I are no different. When Heather was diagnosed with mesothelioma in November of 2005, our lives were turned upside down. Many of the changes we experienced could have been expected. Heather's diagnosis brought chaos and uncertainty. We could plan a week or two in advance at best. Our lives revolved around hospital visits and tests. We became familiar with the inside of several hospitals and medical terminology. I was only working periodically between trips to the hospital and spending time with family. Our daily routine was destroyed.
Author: Cameron Von St. James
Date: 7/26/2012
Actually I'm not mad, but I wanted to talk a little bit about cancer and anger. Anger is listed as the second of the five stages of grief, a hypothesis first introduced by Elisabeth Kübler-Ross in her book On Death and Dying. The five stages are denial, anger, bargaining, depression and acceptance. Now I should start by saying I have never read On Death and Dying. Honestly, I haven't given much thought to these stages. I am familiar enough with the book to know that Kübler-Ross states that these stages are not meant to be complete or chronological. Her hypothesis also holds that not everyone who experiences a life-threatening or life-altering event feels all five of the responses, nor will everyone who does experience them in any particular order. For me, I went straight to anger and stayed there much longer than I would have liked.