Many families today have members facing one of the most lethal cancers, mesothelioma. The cancer occurs due to exposure to asbestos and is the most serious of all asbestos-related diseases. Once considered rare, more and more people are now being diagnosed with mesothelioma. Asbestos can lay silent within the body for years before presenting itself as mesothelioma, and even then symptoms mimic common ailments making it very difficult to diagnose. This is one of the many reasons why the disease is so deadly. Asbestos also has the ability to spread from host to host, carried and transferred via clothing. Mesothelioma is a frightening reality and these stories tell how the disease affected the lives of patients and their families.
The Donnelly Family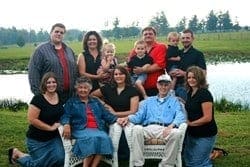 The Donnelly family came face to face with mesothelioma in 2009, and may continue for many years to come. On Christmas day of that year George, his wife Pauline, and their three children received news that George's doctor diagnosed him with the disease. 16 months later, he lost the battle with mesothelioma. The grieving family was hit hard a month later when Pauline too was diagnosed with mesothelioma. George had been exposed to asbestos while working on boats and submarines in Navy shipyards, and he brought the deadly fiber home on his clothing. Pauline unintentionally came in contact with the material simply doing the laundry. Now their three surviving children are going through tests to determine whether they were exposed to the asbestos, and know there is a real chance they too are at risk of developing mesothelioma.
Kelly Diaz De Leon's Father
Kelly Diaz De Leon's father and family struggled through the difficulties of diagnosing mesothelioma. Her father first knew something was wrong in November of 2009 when he developed a cough that progressed into pain and shortness of breath. Persistent doctor visits kept turning up the same answer of a common cold. This just raised more questions for the family as symptoms continued. Doctors were able to locate and remove fluid from his lungs and, at that point, Kelly knew something was wrong. Her father battled pain and surgery for ten months trying to find an answer. In October of 2010, doctors were able to solve the puzzle and diagnosed him with mesothelioma. Unwilling to quit, her father optioned for chemotherapy, but could no longer keep up with treatments. A year after first symptoms, and a constant unforgiving battle, Kelly's father passed away.
Rebecca Arnautavic's Father
Rebecca Arnautavic was on a family trip when the news first came; her father Mick was diagnosed with pleural mesothelioma. Up to the date, he battled a constant sickness that doctors wrote off as a nagging case of the flu, or chest infection. Taking his prescription, he went back to work while the cancer grew inside his body. Time passed and Mick knew things were much more serious. Sick, fatigued, and short of breath he sought more tests. Doctors were able to find the source and diagnosed Mick with mesothelioma; he was given six months to live. With his family in mind he battled the disease, but the cancer had spread to both lungs. Doctors could no longer help and after nine months, Mick passed away.
Jill Leavitt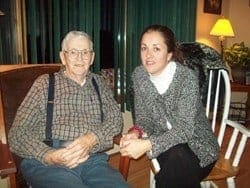 Jill Leavitt's father was diagnosed with mesothelioma more than 20 years since last contact with asbestos. At the age of 85, he began to develop a cough and found himself out of breath. Never a smoker, they attributed this to old age. Asbestos exposure never crossed his mind. Doctor's X-rays were able to show fluid on his lungs. After years of lying dormant, the asbestos began to attack. He made frequent visits to the hospital for surgery to remove the fluid, two to four liters at once. Although this helped relieve the pain, this was not a cure. In an alarming amount of time, the cancer had taken over his body. From first X-rays in the spring, being diagnosed in October, Jill's father succumbed to mesothelioma in December 2011.
Benjamin Monteiro
Straight out of high school, Benjamin Monteiro served with the United States Navy for six years working as a boiler technician where he was constantly in contact with asbestos. Just like many cases of mesothelioma, the asbestos laid dormant within his body for a long time. He was taken by surprise some 27 years later when doctors found cancer in his lung. Going through chemotherapy and radiation treatments, Benjamin was lucky enough to be deemed operable. Days later, doctors removed a fist size tumor from his left lung. Benjamin was able to recover from the surgery. He encourages those who have been exposed to asbestos to seek doctors before it is too late. Catching the disease early dramatically increases the odds of a successful recovery.
Mesothelioma is real. It is a silent and sudden disease that, like many cancers, takes a major toll on the lives of families. Many people, mostly unaware, have been exposed to asbestos not knowing the deadly effects it could have later on down the road. Doctors today are finding faster ways to diagnose the disease in its early stages, and better ways of treating the cancer. With symptoms that mimic common ailments, most don't see the diagnosis coming. It is so important to seek doctors early if any of the symptoms begin to occur, or if there is a possible history of asbestos exposure. Time is the killer for mesothelioma, and if one waits on the signs, it may be too late.
Resources for Mesothelioma Patients