Mesothelioma Cancer Centers
Winthrop P. Rockefeller Cancer Institute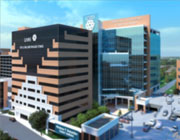 Doctors Affiliated with this Treatment Facility
The Winthrop P. Rockefeller Cancer Institute in Little Rock, Arkansas is affiliated with the University of Arkansas for Medical Sciences complex. It is the only academic cancer center in Arkansas and offers comprehensive medical care to patients from every county in the state. With the 300,000-square-foot expansion completed in 2010, the institute offers additional treatment facilities in a comfortable and effective environment. A dedicated team of physicians, nurses, researchers, and other health care professionals provide superior care. Support groups and counseling are offered as well, for patients and their families.
All cancer research for the University of Arkansas for Medical Sciences (UAMS) and the affiliated institutions is conducted under the direction of the Winthrop P. Rockefeller Cancer Institute. Focused programs, resources, and disease-specific sciences enable researchers to effectively make innovative discoveries that will further advance cancer treatments. The Cancer Institute Disease Oriented Committees (DOCs) discuss ideas for clinical, translational, and basic research. With eleven different DOCs at the WPRCI, specialists are able to focus on initiating new research ideas based on each cancer-related disease.
History
In the 1970s, Kent Westbrook, M.D. and James Y. Suen, M.D. decided to collaborate with their expertise in surgical oncology and head and neck surgery to develop the Winthrop P. Rockefeller Cancer Institute. Both colleagues were completing their fellowships at Houston's M.D. Anderson Cancer Center, and realized that their home state of Arkansas was lacking a comprehensive cancer center. In 1984, they were given the go ahead to begin developing the cancer institute.
The first floor of the institute was opened in 1989 for research and patient care followed by another seven floor addition in 1996. By 2010, a 12-story expansion was constructed and opened to the public. In July of 2007, Peter D. Emanuel, M.D. stepped up as director of the cancer institute. That year the cancer institute changed its name to Winthrop P. Rockefeller in honor of the late Lt. Gov. Winthrop P. Rockefeller.
Mesothelioma Treatment at the Winthrop P. Rockefeller Cancer Institute
The lung cancer team at The Winthrop P. Rockefeller Cancer Institute is comprised of several physicians and a lung cancer coordinator. Diagnostic and support care services provide personalized treatment plans geared towards each patient's individual medical needs. The multidisciplinary team of pulmonologists, surgeons, oncologists, pathologists, radiologists, radiation therapists, and palliative care physicians use their expertise to treat patients with mesothelioma and other serious lung diseases.
The healthcare professionals on the lung cancer team use a variety of diagnostic tools including bronchoscopy, CT-guided biopsy, and PET scans to make an accurate diagnosis and determine specialized treatment plans for each patient. Physicians frequently use a combination of chemotherapy, radiation, and surgery to treat mesothelioma and work with radiation and chemotherapy specialists who develop individualized treatment therapies for patients to achieve the best possible outcome. The University of Arkansas for Medical Sciences is one of the country's few radiology departments offering Radiofrequency Ablation (RFA) for lung tumors. RFA uses radio waves to destroy any tumor tissue.
Physicians such as thoracic surgeon specialist, Matthew Steliga, M.D., have expertise in lung cancer surgery. Matthew Steliga, M.D., is a thoracic oncologist at the cancer institute and was an instructor in thoracic and cardiovascular surgery at M.D. Anderson Cancer Center in Houston before his residency in Arkansas. With certifications from the American Board of Surgery and the American Board of Thoracic Surgery, Steliga has specialties in general surgery, cardiothoracic surgery, and lung cancer. He treats patients with mesothelioma, various lung diseases, lung cancer, and cardiovascular disease. Steliga performs both non-minimally invasive and minimally invasive procedures such as Thoracoscopic Lobectomy and VATS.
Author: Linda Molinari
Editor in Chief, Mesothelioma Cancer Alliance
Read about Linda
Reviewer: Annette Charlevois
Patient Support Coordinator
Read about Annette
Sources