Mesothelioma Cancer Centers
Washington Cancer Institute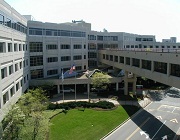 Doctors Affiliated with this Treatment Facility
With more than 85,000 outpatient visits in 2010, the Washington Cancer Institute is the largest cancer care provider in Washington, D.C. The cancer institute is a part of the Washington Hospital Center, a nonprofit, 926-bed teaching and research hospital – the largest private hospital in the nation's capital. The hospital has been recognized for excellence by several organizations and has appeared on U.S. News & World Report's list of Top Hospitals.
History
The Washington Hospital Center, where the Washington Cancer Institute is located, was founded in 1958, when three specialty hospitals merged together. In May 1998, the hospital's parent company – the nonprofit Medlantic Healthcare Group – merged with Helix Health, a group of four hospitals located in Baltimore, Maryland. With that merger, the resulting company became the largest health care provider in the mid-Atlantic, and shortly thereafter changed its name to MedStar Health.
Today, Washington Hospital Center remains a nonprofit acute care teaching and research hospital and a member of MedStar Health. In 2010, the hospital counted 400,000 outpatient and 41,000 inpatient visits; in that same year, nearby hospitals referred nearly 7,000 of their most complicated hospital cases to Hospital Center. The hospital employs some 1,400 physicians on its 47-acre campus, which is shared with three other medical facilities.
Mesothelioma Treatment at the Washington Cancer Institute
At the Washington Hospital Center, patients with cancer are frequently treated at the Washington Cancer Institute; the Institute treats far more cancer patients than any other cancer program in Washington, D.C. In 2010, more than 85,000 outpatients were treated at the center; more than 2,300 new cancer cases were diagnosed there.
The Cancer Institute offers a full range of medical oncology, radiation and surgery services, as well as access to a significant number of clinical trials. The center offers comprehensive, interdisciplinary care, meaning that various specialties work together to create a specialized treatment plan for each patient. Therefore, patients benefit from the expertise of not just one doctor, but a full team of care providers, including oncologists, surgeons, radiation therapists, psychologists and others. Counseling, cancer-related education and community outreach programs are also offered for patients and their families; some of these programs take place in a specially designated patient education center at the hospital. Other cancer support services include genetic counseling, hospice services, nutrition counseling, spiritual support and palliative care.
Located at the Washington Cancer Institute is Sugarbaker Oncology Associates, a practice of Dr. Paul Sugarbaker that focuses on the treatment of gastrointestinal cancers, including peritoneal mesothelioma (mesothelioma of the abdomen). Just 100-150 new cases of peritoneal mesothelioma are diagnosed each year in the United States, generally to patients with a history of asbestos exposure. Because the disease lacks symptoms in its early stages, it can be very difficult to diagnose until it has progressed; however, a new treatment that combines surgery and chemotherapy is under development at several hospitals, including Sugarbaker's treatment center.
Author: Linda Molinari
Editor in Chief, Mesothelioma Cancer Alliance
Read about Linda
Reviewer: Annette Charlevois
Patient Support Coordinator
Read about Annette
Sources