Mesothelioma Cancer Centers
University of Wisconsin Carbone Cancer Center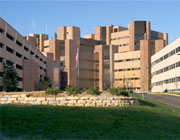 Doctors Affiliated with this Treatment Facility
When choosing a clinic to go to for medical treatment for an asbestos cancer such as pleural mesothelioma or pericardial mesothelioma, there are numerous factors that patients ought to consider. The number of alternatives for treating malignant mesothelioma is ever expanding as medical researchers discover more about the disease and as pharmaceutical companies run tests on newly developed cancer-fighting medicines, like Carboplatin and Alimta®. Finding a treatment center with up-to-date equipment and doctors who have experience in treating asbestos-related diseases is consequently very important if you or a family member has developed mesothelioma cancer. In addition to offering drugs, radiation therapy and surgical treatment, many cancer treatment centers also employ psychologists to help patients and their families cope with the cancer prognosis. Depending on where you live, the best option might not be located close to your residence; if that is the case you may have to balance the hassles of traveling to obtain treatment (and the accompanying costs for you and your loved ones) with the advantages of obtaining care from those who are expert in treating all types of mesothelioma, like peritoneal mesothelioma.
The UW Carbone Cancer Center is recognized as one of the leading innovators in cancer research and treatment. It is one of the nation's thirty-nine National Cancer Institute Designated Comprehensive Cancer Centers, offering diagnosis and treatment for:
lung cancer
head and neck cancer
Barrett's esophagus
bladder cancer
brain and central nervous system tumors
breast cancer
esophageal cancer
gastrointestinal cancers
hematologic diseases
kidney cancer
leukemia
lymphoma
multiple myeloma
liver cancer
melanoma
ovarian cancer
pancreatic cancer
prostate cancer
sarcoma
testicular cancer
thyroid cancer
uterine cancer
vulvar cancer
There are approximately fifty treatment options available that range from standard to experimental some of which are:
lung surgery
head and neck surgery
brachytherapy
advanced radiologic imaging
advanced neurosurgical techniques
mediastinoscopy
radiation therapy
stereotactic radiosurgery
transrectal ultrasound
video-assisted thoracoscopic lobectomy (VATS)
whole brain radiation.
There are also between 200 and 250 clinical trials available to Carbone Center patients at any given time; 700 patients participate on an annual basis.
The University of Wisconsin Hospital and Clinics also operates Thoracic Surgery Center for the surgical treatment of benign-fibrous mesothelioma as well as the range of malignant neoplasts. For the procedures performed are:
lung transplant
lung volume reduction surgery, (LVRS),
ETS
esophagectomy
bronchoscopy
pulmonary thromdoendarterectomy
robotic thymectomy
Author: Linda Molinari
Editor in Chief, Mesothelioma Cancer Alliance
Read about Linda
Reviewer: Annette Charlevois
Patient Support Coordinator
Read about Annette
Sources