Mesothelioma Cancer Centers
University of Arizona Cancer Center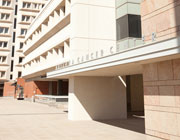 Doctors Affiliated with this Treatment Facility
Located in sunny Tucson, the University of Arizona Cancer Center is a cancer treatment hospital affiliated with the University of Arizona College of Medicine. It is the only National Cancer Institute-designated comprehensive cancer center headquartered in the state of Arizona.
History
The University of Arizona Cancer Center was founded in 1976 as part of the university's medical school, which had opened its doors nine years earlier. In 1990, the center received federal recognition as a comprehensive cancer center by the National Cancer Institute, a division of the National Institutes of Health.
Today, the University of Arizona Cancer Center works to fight cancer in six scientific research areas: cancer biology, cancer imaging, cancer prevention and control, gastrointestinal cancer, therapeutic development and biobehavioral and social sciences research. Researchers in these six areas collaborate with physicians to provide a "benchtop to bedside" approach, developing new technologies and working to quickly translate them into patient care. In fact, the cancer center's research portfolio includes more than $70 million in annual research funding, including millions in funding from the federal government's National Cancer Institute.
Patients at the University of Arizona Cancer Center may receive treatment at three locations. The University of Arizona Cancer Center-North Campus is an 82,000-square-foot facility that features a spacious, airy waiting room with books and a grand piano, as well as separate TV rooms, a resource center, massage rooms and meditation gardens. In Northwest Tucson, the Orange Grove campus offers a 28,000-square-foot outpatient clinic with on-site laboratory and pharmacy services. As of June 2011, the Orange Grove facility also offers cutting-edge radiation oncology treatment, thanks to a 12,000-square-foot expansion that included a new, state-of-the-art PET-CT Simulator imaging machine. Much of the cancer center's radiation therapy is conducted at a third location, the University of Arizona Medical Center's Radiation Oncology department, which is located on the medical campus.
An expansion is also on the horizon. In late 2011, the University of Arizona Cancer Center announced it would collaborate with St. Joseph's Hospital and Medical Center to offer cancer treatment services in the downtown Phoenix area. The result will be a "premier center for ambulatory and inpatient oncology, with an emphasis on high quality, patient-centered, evidence-based multidisciplinary care and clinical/translational research," the institutions said.
Mesothelioma Treatment at the University of Arizona Cancer Center
Receiving a mesothelioma diagnosis can be extremely frightening. Because of the rarity of the disease – just 3,000 new cases are diagnosed each year – many people afflicted with mesothelioma have never even heard of the disease, let alone thought they could be affected by it. Choosing a hospital with mesothelioma experience is important – both to receive the best possible care and to to put the patient and his or her family at ease.
The University of Arizona's Cancer Center's Thoracic Oncology Clinic boasts an interdisciplinary team of specialists who take a comprehensive and individualized approach to treating patients. The clinic offers a wide range of services, including cancer prevention, diagnosis, treatment, research and supportive care. Patients are frequently offered a chance to participate in clinical trials as well as treatment with minimally invasive surgery and radiation techniques, such as radiosurgery and TomoTherapy®.
In addition, an exiting new surgery has recently been performed at the center. Dr. Jonathan Daniel, a surgeon in the center's thoracic team (formerly of Brigham and Women's Hospital/Harvard Medical School in Boston), is credited with pioneering a highly complex new surgery for the treatment of mesothelioma: extrapleural pneumonectomy or radical pleurectomy. In the surgery – the first successful one of its kind – Dr. Daniel removed the patient's tumor, the lung, the covering of the heart and the diaphragm, and created a new pericardium (the covering of the heart) from a synthetic material known as Gore-Tex. Dr. Daniel has since performed similar surgeries in several other patients.
Author: Linda Molinari
Editor in Chief, Mesothelioma Cancer Alliance
Read about Linda
Reviewer: Annette Charlevois
Patient Support Coordinator
Read about Annette
Sources