Mesothelioma Cancer Centers
The Cleveland Clinic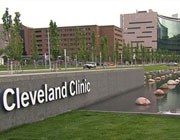 Doctors Affiliated with this Treatment Facility
When choosing a facility that provides treatment for an asbestos cancer, like mesothelioma, there are many factors that patients should consider. The number of possibilities for mesothelioma treatment is constantly rising as medical researchers discover more about the mechanisms of the disease and as pharmaceutical companies run tests on newly developed cancer-fighting medicines. As a result, general practitioners and smaller hospitals may not have the expertise and experience needed to ensure the most effective care for patients who present symptoms for malignant mesothelioma sometimes referred to as asbestos lung cancer. Besides offering chemotherapy drugs like Cisplatin and Carboplatin, radiation therapy and surgical treatment, most cancer clinics also employ counselors to help patients and their loved ones handle the stress of dealing with a mesothelioma diagnosis. Some regions of the country do not have specialized cancer clinics for hard-to-treat diseases, in which case you might need to travel some distance in order to obtain the highest chance of remission.
The Cleveland Clinic is a nonprofit medical center integrating clinical and hospital care with research and education. Founded in 1921, the Cleveland Clinic has grown to become one of the largest facilities in the United States.
The institution's health system includes eight community hospitals, a children's hospital for rehabilitation and one affiliate hospital. Clinic centers offer both outpatient and specialty care in multiple locations throughout northern Ohio. All affiliated hospitals, family health centers, outpatient clinics and home healthcare programs are accredited by The Joint Commission under its hospital accreditation program.
The Cleveland Clinic's Taussig Cancer Institute has been recognized as one of the top cancer hospitals in the country by U.S. News & World Report, ranking Number 1 among Ohio medical centers in an annual hospital survey.
Author: Linda Molinari
Editor in Chief, Mesothelioma Cancer Alliance
Read about Linda
Reviewer: Annette Charlevois
Patient Support Coordinator
Read about Annette
Sources