Mesothelioma Cancer Centers
Smilow Cancer Hospital at Yale-New Haven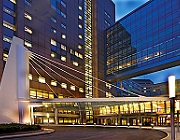 Doctors Affiliated with this Treatment Facility
Part of Yale-New Haven Hospital — the largest hospital in the state of Connecticut — Smilow Cancer Hospital is a 168-bed facility that offers specializations in 12 cancer programs, including gastrointestinal cancers, thoracic oncology and sarcoma. As the primary teaching hospital for the Yale School of Medicine, Smilow attracts some of the top professionals in the medical field to their diverse team of physicians, faculty members, nurses and residents. Smilow is affiliated with Yale Cancer Center, southern New England's only designated Comprehensive Cancer Center, and treats more cancer patients than any other hospital in Connecticut.
Yale-New Haven Hospital is ranked 35th in the country for its cancer care, according to U.S. News and World Report's 2012-13 rankings.
History
Like many longstanding New England institutions, Yale-New Haven Hospital has a long and interesting history. Its story dates back to 1826, when the General Hospital Society of Connecticut was founded as the first hospital in the state. The hospital rented a building until 1833, when a new 13-bed facility named State Hospital was built for $13,000. During the Civil War, State Hospital was used as a military hospital to care for wounded Union soldiers, but it returned to treating the public after the war. Over the years, New Haven residents began informally referring to the hospital as "New Haven Hospital," and in 1884 that name was officially adopted. New Haven Hospital formalized its relationship with the Yale School of Medicine in 1913, although it would not become Yale-New Haven Hospital until the mid-1960s.
Decades later, Smilow Cancer Hospital opened its doors in October 2009. The new, 14-story, 500,000-square-foot facility had taken three years to build and became New Haven's seventh tallest building. An adjacent six-story building houses a variety of research laboratories and the hospital pharmacy. Smilow's facilities are connected to the rest of Yale-New Haven Hospital through its impressive two-story glass lobby, ensuring both collaboration for its doctors and researchers and convenience for its patients. Another noteworthy fact about Smilow's facilities is that its waiting rooms lack television sets; instead, the building's designers focused on creating a welcoming space through artwork, large fish tanks and a rooftop garden designed for comfort and relaxation.
The goal of building a new cancer center facility was to integrate under one roof all cancer patient services at Yale-New Haven Hospital and the Yale School of Medicine in one building specially designed for cancer care. That goal was supported with a generous gift from Joel E. Smilow, an alumnus of Yale University and the former chair, CEO and president of Playtex Products Inc., and his wife, Joan; as recognition for their financial support, the cancer center bears their names.
When it comes to cancer research, Yale claims several important "firsts." Yale School of Medicine was home to the first university-based medical oncology section in the United States, and its faculty has been responsible for many breakthroughs, including the first successful use of chemotherapy at Yale-New Haven Hospital in 1942. (An another interesting bit of trivia, former President George W. Bush was born at Yale-New Haven Hospital in 1946.)
Mesothelioma Treatment at the Smilow Cancer Hospital at Yale-New Haven
Being diagnosed with mesothelioma can be surprising and overwhelming; choosing a doctor you trust and a hospital where you feel comfortable can make the process much less stressful. Smilow Cancer Hospital is lucky to have several health care professionals who specialize in the treatment of mesothelioma, including Drs. Frank Detterbeck and Jack Elias.
Central to Smilow's philosophy is "personalized medicine," the practice of biologically tailoring cancer treatment to each individual patient. This practice relies on the most cutting-edge research: by cracking cancer's genetic code in a laboratory, doctors can understand cancer at the cellular level, and then apply that knowledge with targeted therapies designed for your particular cancer. At Smilow, this practice is carried out in an environment of "patient-centered care," in which the patient and family's priorities, goals and emotions take priority in every medical decision. The model also relies on the expertise of multidisciplinary teams, including surgeons, medical oncologists, radiation oncologists, nurses, nutritionists and others, who work in unison to treat patients. By pooling their knowledge, these teams can most effectively determine the best course of action for patients' health.
Patients with pleural (lung) mesothelioma are generally treated by doctors in Smilow's Thoracic Oncology Program, which is led by Dr. Detterbeck, the department's clinical program leader. The department offers the latest in screening and diagnosis, genetic counseling, treatment, psychosocial support, rehabilitation and more. Typically, mesothelioma treatment depends on a combination of surgery, chemotherapy and/or radiation therapy, depending upon the stage and severity of the cancer. But if you should decide to forego traditional treatment for a more experimental route, Smilow Cancer Center patients are offered a wide range of clinical trials.
Author: Linda Molinari
Editor in Chief, Mesothelioma Cancer Alliance
Read about Linda
Reviewer: Annette Charlevois
Patient Support Coordinator
Read about Annette
Sources