Mesothelioma Cancer Centers
Ohio State University Comprehensive Cancer Center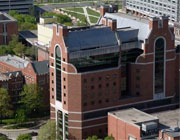 Doctors Affiliated with this Treatment Facility
When choosing a treatment center for asbestos cancer, including peritoneal mesothelioma, it is important to find a highly regarded facility where the latest treatments are offered. Although mesothelioma is now understood as a consequence of being exposed to asbestos, occurrence of the disorder is still rare in the general population; many physicians have never encountered any patients with mesothelioma symptoms. As a result, general practitioners and smaller clinics might not have the expertise and experience needed to provide the most effective care for those with malignant mesothelioma. In addition to offering medications like Cisplatin and Carboplatin, radiation and surgical treatment, many hospitals that specialize in cancer treatment also have psychologists on staff to help patients and their family members come to terms with the stress of dealing with the cancer diagnosis. In some cases, the right choice is not located near your home and you may need to balance the difficulties of having to travel to receive treatment (as well as the associated expenses for you and your loved ones) with the advantages of receiving medical care from experts in treating patients with asbestos-related diseases.
James Cancer Hospital and Solove Research Institute is operated under the auspices of the Ohio State University Comprehensive Cancer Center. It is one of 39 institutions in the nation that has been designated by the National Cancer Institute (NCI) as a "comprehensive cancer center." James Cancer Hospital has been providing innovative cancer treatments since July 1990. In 2009, the institution was rated as one of "America's Best Hospitals" by U.S. News & World Report.
James Cancer Hospital patients who are covered by private insurance or are able to pay can benefit from advances in the fields of genetics and genomics, bioinformatics and other cutting-edge therapies. Additionally, the institution provides excellent training for health care providers entering this lucrative field.
Author: Linda Molinari
Editor in Chief, Mesothelioma Cancer Alliance
Read about Linda
Reviewer: Annette Charlevois
Patient Support Coordinator
Read about Annette
Sources