Mesothelioma Cancer Centers
City of Hope Comprehensive Cancer Center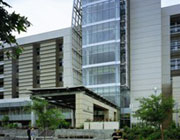 Doctors Affiliated with this Treatment Facility
City of Hope is one of only 40 National Cancer Institute-designated Comprehensive Cancer Centers in the United States. Located in Duarte, California northeast of Los Angeles, City of Hope has been at the forefront of cancer research and innovative approaches to patient care for nearly 100 years. City of Hope is also a founding member of the National Comprehensive Cancer Network. Funding is provided by a combination of research grants (nearly $78 million in 2011), private donations and revenue from patented technologies.
City of Hope's multi-use campus allows physicians to address every aspect of cancer care, from research and prevention to patient treatment and wellness. In addition to research and clinical centers, the campus includes a biologic manufacturing facility, cottage apartments for hospice care, a pharmacy, a library and landscaped gardens for rest and contemplation.
History
City of Hope was founded in 1913 as a free tuberculosis hospital by the Jewish Consumptive Relief Association. Originally called the Los Angeles Sanatorium, the hospital attracted the patronage of Hollywood celebrities and philanthropists. In 1949, the hospital officially changed its name to City of Hope, reflecting a new goal of creating a full-service center for research, treatment and education, with a focus on compassionate patient care.
From its original 40 acres, the campus has expanded over the years to more than 100 acres. A research institute was established in 1952, and Hope Village, which allowed patients and their loved ones to stay together near the hospital during treatment. As City of Hope's physical presence grew, so did its research efforts, with Hope physicians and scientists pioneering studies in neurogenetics, recombinant DNA and tumor development. In 1983, the Beckman Research Institute was founded with an initial grant of $10 million from the Arnold and Mabel Beckman Foundation. In the late 1990's, City of Hope was awarded the National Cancer Institute's Comprehensive Cancer Center designation, identifying it as a top cancer center for research and patient care.
Mesothelioma Treatment at City of Hope
At City of Hope, mesothelioma patients are treated by the Lung Cancer and Thoracic Oncology Program's multidisciplinary team which includes thoracic surgeons, radiation oncologists, nurses and other specialists. A range of advanced treatment options is available, including robotic surgery, TomoTherapy,
Patients may also have the opportunity to participate in one of City of Hope's more than 300 clinical trials, which range from investigating new cancer prevention and screening methods, to developing new treatments and disease management techniques. One of City of Hope's earliest goals has been to treat the spirit as well as the body, and several of the center's features were created with this in mind. On-site housing is available for patients and families who have travelled long distances to receive treatment. Parks and gardens, including a rose garden and a Japanese garden, offer quiet, natural settings to ease the stress of travel and treatment for patients and their loved ones.
Author: Linda Molinari
Editor in Chief, Mesothelioma Cancer Alliance
Read about Linda
Reviewer: Annette Charlevois
Patient Support Coordinator
Read about Annette
Sources