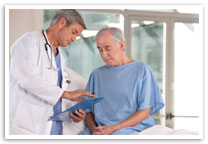 Our goal at Mesothelioma.com is to help you connect with the best cancer centers and surgical teams in the country. If you've been diagnosed with mesothelioma, finding and choosing the right medical team of doctors and specialists to work with is one of the most important steps you can take to improve your overall prognosis and chances of survival.
To assist in your search we have compiled extensive cancer center and doctor listings for each state along with other helpful information. Please click on the state links below to find out where the top cancer centers are in your state and who the top mesothelioma doctors are.
[[statelist-treatment]]
The type of mesothelioma you've been diagnosed with, the stage that the disease has progressed to you and your health history will all factor in your search to find the optimal providers to care for you and support you in the fight.
In some cases, patients may need to travel to other parts of the country to meet and consult with top mesothelioma doctors and surgeons that have expertise in treating their specific type of mesothelioma. This can create additional stress for both the patient and family during an already stressful time. To help ease the emotional and financial burdens of seeking out of state treatment, we have also provided information about cancer support services available in each state as well as ways to obtain financial assistance to help with extensive treatment costs.
We also provide additional resources including the ability to speak with [[heather-survivor-years]] mesothelioma survivor, a free Mesothelioma Treatment Guide, access to periodic treatment alerts and information about filing an asbestos exposure claim.
Our hope is that you find this information both helpful and supportive to you in this difficult time as you progress through treatment.