Asbestos Exposure, Mesothelioma Doctors and Lawyers in Anacortes, Washington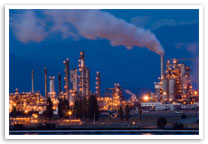 Anacortes is a city located 78 miles north of Seattle, Washington on Fidalgo Island. Surrounded by the Puget Sound to the north and the San Juan Islands on three sides, Anacortes gets 21 inches of rain annually which is half as much as neighboring Seattle. Anacortes built its first post office in 1879 and twelve years later, in 1891, the town became an official incorporated city.
Following the arrival of the transcontinental railroad, Anacortes became a thriving lumber and fishing community. These industries drove the local economy until the 1950s when oil companies began constructing refineries in town. Some of the earliest facilities included Shell Oil Refinery, Equilon, and Texaco Oil Refinery Washington. Many refineries are still in operation today but have changed corporate hands; originally a Texaco facility, Puget Sound Refining Company is one of Anacortes' largest area employers. Puget Sound Refinery employs 375 people and has about 100 contract workers on site. The processed crude oil from the facility generates 143,000 barrels per day and is used to manufacture gasoline and jet fuel. In addition to the considerable refining industry, yacht construction and shipbuilding, tourism, and residential services for Whidbey Island Naval Air Station add to the present-day economic base of Anacortes.
The longstanding industrial history of Anacortes places the city in a high risk category for asbestos exposure. Individuals who worked with or around asbestos containing materials may be at risk to developing mesothelioma cancer. If you have been diagnosed with mesothelioma in Anacortes, you may benefit from contacting Dr. Eric Vallieres. Additionally, you should know that asbestos law firms represent people from Anacortes who were exposed to asbestos and then diagnosed with mesothelioma.
Asbestos Exposure at Jobsites in Anacortes
If you worked at any of these companies and/or job sites in Anacortes, Washington, you may have been exposed to harmful asbestos which is known to cause mesothelioma cancer.
Allied Chemical
Bechtel Corporation
Collier Carbon & Chemical Company
E.K. Wood Lumber Company
Equilon
Fisher Packing Company
Morrison Mill Company
Northwest Petrochemical
Puget Sound Refining
Puget Sound Refining Company
Puget Sound Works
Shell Oil Company
Shell Oil Refinery
Shell Oil Refinery - Anacortes
Shell Refinery
Snelson-Anvil, Inc.
Tecnal Corp
Tesoro West Coast
Texaco Incorporated
Texaco Oil Refinery
Texaco Oil Refinery Washington
Texas Company
Contact a Mesothelioma Doctor near Anacortes
For your convenience, we have compiled a list of mesothelioma doctors that are located within a 100-mile radius of Anacortes, Washington. Please click on a doctor link to obtain more information about his/her background, areas of expertise, professional affiliations, and office locations.
Anacortes, Washington Mesothelioma Cancer Centers
We have compiled a list of mesothelioma cancer centers within a 100-mile radius of Anacortes, Washington. Click on a specific cancer center link to obtain more information about the clinical programs offered, affiliated mesothelioma doctors and how to contact the cancer center.
Cancer Support Services Near Anacortes, Washington
The following cancer support services may be of help to you while you are receiving treatment for mesothelioma. Support services for mesothelioma patients include patient transport, temporary housing, physical therapy and counseling.
Washington Treatment Support Services
Counseling & Support Groups

Cancer Lifeline


(Seattle)
206-297-2100
Distance: 60.5 miles

Harmony Hill Healing Retreat


(Union)
360-898-2363
Distance: 84.3 miles

Long-Term Housing

The Collegiana


(Seattle)
206-732-3200
Distance: 62.0 miles

SCCA House


(Seattle)
206-204-3700
Distance: 63.0 miles
Patient Transport

Mercy Transportation


(Everett)
425-347-4700
Distance: 44.4 miles

Catholic Community Services


(Seattle)
206-328-5696
Distance: 67.0 miles

Physical Therapy

RET Physical Therapy (multiple locations)


(Marysville)
360-658-8400
Distance: 35.9 miles
Filing a Mesothelioma Lawsuit in Anacortes
If you were exposed to asbestos at a commercial, residential or military site in Anacortes, Washington and have been diagnosed with mesothelioma, you may be entitled to compensation. Don't lose your right to file a lawsuit to hold those responsible accountable. You must act quickly and file your claim within the appropriate statute of limitations for the state of Washington.
Lawyers Who Represent Anacortes Residents
Dean, Omar & Branham, LLP is a law firm dedicated to using the legal profession to make our community safer. When someone is badly hurt because someone else did not act reasonably, we are here to help provide whatever justice the legal system can give the family who has been wronged.
Early, Lucarelli, Sweeney and Meisenkothen is a national law firm recognized for its representation of over 3,000 hardworking men and women who have been exposed to asbestos and diagnosed with mesothelioma. ELSM's experience in asbestos litigation spans four decades.
At Gori Julian and Associates, P.C., we have handled hundreds of mesothelioma lawsuits on behalf of people throughout the United States. This experience allows us to choose jurisdiction in which to file your case based on many factors including but not limited to state of residence, jobsites, and previous and current employers.
As one of the nation's leading mesothelioma law firms, Simmons Hanly Conroy has a proven track record. Every mesothelioma lawyer at the firm is committed to helping families affected by mesothelioma and asbestos-related diseases.
Resources for Mesothelioma Patients in Anacortes, Washington
Asbestos-Related News in Washington
A new bill is expected to pass soon to make it easier for workers exposed at the Hanford Site to qualify for workers' compensation. Learn more about it at the Mesothelioma Cancer Alliance.
A1 Asbestos LLC is being accused of falsifying disposal documents to an Okanogan County landfill and offering false statements to state department officials.
Author: Linda Molinari
Editor in Chief, Mesothelioma Cancer Alliance
Read about Linda
Reviewer: Jennifer R. Lucarelli
Lawyer for Mesothelioma Victims and Their Families
Read about Jennifer