Asbestos Exposure, Mesothelioma Doctors and Lawyers in Lafayette, Indiana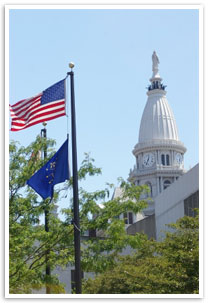 Lafayette is a city in and the seat of Tippecanoe County, Indiana, situated approximately 63 miles northwest of Indianapolis. The town of Lafayette was platted in May 1825 by river trader William Digby. In Lafayette's earliest days, it was a shipping center on the Wabash River. The Wabash and Erie Canal in the 1840s further solidified Lafayette's regional prominence, which was also heightened by the arrival of the railroads in the 1850s.
Today, the city is home to approximately 67,000 residents. The economy of Lafayette and the surrounding area is largely focused around the academic and industrial activities of Purdue University. The university and its associated businesses employ a significant portion of the Lafayette workforce. However, private industry and commerce independent of the university also exist in the community. Some notable examples include Alcoa, a producer of aluminum extrusions and tubes; Caterpillar Large Engine Division, producer of large diesel and natural gas engines; Wabash National, world's largest manufacturer of semi-truck trailers; and Rea Magnet Wire, manufacturer of high precision magnet wire.
Lafayette's diverse manufacturing history places it in a high-risk category for asbestos exposure, making the risk of mesothelioma cancer a concern for workers and loved ones. For your convenience, we have listed mesothelioma doctors located in or near Lafayette at the bottom of this page. Mesothelioma attorneys may also be able to assist you if you or a loved one were exposed to asbestos in Lafayette, Indiana.
Other Asbestos Exposure Sites in Lafayette, Indiana
If you worked at any of these companies and/or job sites in Lafayette, Indiana, you may have been exposed to harmful asbestos which is known to cause mesothelioma cancer.
Alcoa Company
Anheuser Busch
Arbuckle, Ryan Company
Board of Trustees of Water Works.
Broad of Public Works
Brown Rubber Company
Chicago Indianapolis and Louisville Railway
Chicago Indpls and Louisville Railway
Crawfordville Powerhouse
Duncan Electric Manufacturing Company
Eli Lilly & Company
Fort Wayne and Northern Ind. Traction
General Foods Corporation
Home Hospital
La Fayette St. Railway Company
Lafayette Boy Board Company
Lafayette Car Works
Lafayette Gas Company
Lafayette Home Hosp
Lafayette Refrigeration Service
Le and W Railway Company
Manardo Fruit Company
Merchants Electric Light Association
Merchants Electric Light Company
National Fruit Juice Company
New State Farm Insurance Building
Northern Indiana Gas and Electric Company
Powerhouse
Purdue Powerhouse
Purdue University
Purdue University
Rea Magnet Wire Company, Inc.
Ross Gear Division
Snyder Sheet Metal
St. Elizabeth Hospital
Staley
Steam Company, Inc.
Thieme and Wagner Brewing Company
U.S. Air Force
Water Works
Westing House Church Kerr and Company
Find a Mesothelioma Doctor near Lafayette, Indiana
We have gathered below a list of mesothelioma doctors and oncologists that practice within a 100-mile radius of Lafayette, Indiana. Click on a specific doctor link to obtain more information about their areas of expertise, background, professional affiliations, and office locations.
Lafayette, Indiana Mesothelioma Cancer Centers
We present below a list of mesothelioma cancer centers that are located within a 100-mile radius of Lafayette, Indiana. Click on a specific cancer center link to obtain more in depth information about each one.
Mesothelioma Patient Support Services near Lafayette
The following cancer support services may be of help to you while you are receiving treatment for mesothelioma. Support services for mesothelioma patients include patient transport, temporary housing, physical therapy and counseling.
Indiana Treatment Support Services
Counseling & Support Groups

Cancer Support Community


(Indianapolis)
317-257-1505
Distance: 48.8 miles

IU Health Melvin & Bren Simon Cancer Center


(Indianapolis)
888-600-4822
Distance: 57.1 miles

Ball Memorial Hospital


(Muncie)
765-751-1449
Distance: 79.0 miles

Cancer Resource Centre


(Munster)
219-836-3349
Distance: 85.4 miles

Cancer Support Center


(Mokena)
708-478-3529
Distance: 94.1 miles

Long-Term Housing

Hope Lodge


(Indianapolis)
317-415-5050
Distance: 50.8 miles

St. Vincent Foundation


(Indianapolis)
317-338-2338
Distance: 50.8 miles

Fair Haven Foundation


(Indianapolis)
317-348-3688
Distance: 58.1 miles

SON Foundation


(Indianapolis)
317-504-9292
Distance: 61.7 miles

Carle Guest House


(Urbana)
217-722-2624
Distance: 74.2 miles
Patient Transport

Compassionate Medical Transportation


(Indianapolis)
317-921-1076
Distance: 56.2 miles

Medical Transport Services LLC


(Valparaiso)
219-465-2110
Distance: 72.2 miles

5 Star Elite Medical Transportation Service


(Gary)
219-577-2067
Distance: 86.9 miles

SCR Medical Transportation


(Chicago)
773-967-6400
Distance: 99.7 miles

Physical Therapy

Physical Therapy - Community Cancer Center North


(Indianapolis)
317-621-0480
Distance: 54.3 miles

Union Hospital - Cancer Rehabilitation


(Terre Haute)
812-238-7000
Distance: 69.1 miles

IU Health Bloomington Hospital


(Bloomington)
812-353-5252
Distance: 93.2 miles
Filing an Asbestos Lawsuit in Lafayette, Indiana
Don't lose your right to file a mesothelioma claim. If you or a loved one has been diagnosed with mesothelioma and were exposed to asbestos in Lafayette, Indiana, you may be entitled to compensation. You must file your claim within the appropriate statute of limitations for the state of Indiana.
Mesothelioma Lawyers Servicing Lafayette, Indiana
Early, Lucarelli, Sweeney and Meisenkothen is a national law firm recognized for its representation of over 3,000 hardworking men and women who have been exposed to asbestos and diagnosed with mesothelioma. ELSM's experience in asbestos litigation spans four decades.
At Gori Julian and Associates, P.C., we have handled hundreds of mesothelioma lawsuits on behalf of people throughout the United States. This experience allows us to choose jurisdiction in which to file your case based on many factors including but not limited to state of residence, jobsites, and previous and current employers.
As one of the nation's leading mesothelioma law firms, Simmons Hanly Conroy has a proven track record. Every mesothelioma lawyer at the firm is committed to helping families affected by mesothelioma and asbestos-related diseases.
Help for Lafayette, Indiana Mesothelioma Patients
Asbestos-Related News in Indiana
The Indiana State Department of Environmental Management is being taken to court over emails about asbestos exposure.
The Indiana Supreme Court struck down the state's unjust 10 year statute of repose because it treats similar asbestos victims differently.
Author: Linda Molinari
Editor in Chief, Mesothelioma Cancer Alliance
Read about Linda
Reviewer: Jennifer R. Lucarelli
Lawyer for Mesothelioma Victims and Their Families
Read about Jennifer