Asbestos Exposure, Mesothelioma Doctors and Lawyers in West Palm Beach, Florida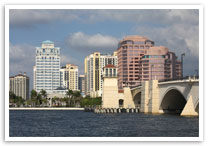 West Palm Beach is the largest city of Palm Beach County and the oldest municipality in South Florida. West Palm was founded by Henry Flagler in 1893 and on November 5, 1894, the motion passed to officially incorporate the city of West Palm Beach. Soon after its incorporation West Palm became a busy frontier town with storefronts and saloons lining the streets. From 1920 to 1927, the city's population quadrupled as part of the Florida land boom. Many of West Palm's historic neighborhoods and buildings were constructed during this time.
Farming and sugar businesses played integral roles in West Palm's early economy. The growing population in the 1920s led to the opening of West Palm power plants, many of which are operated by Florida Power & Light Company. Pratt & Whitney Aircraft also opened facilities in West Palm Beach during this time. World War II brought change to the local community; the Breakers Hotel became Ream General Hospital and the Biltmore was lent to the United States Coast Guard. Following the war, West Palm Beach experienced major development of swampland just west of the downtown area. The newly constructed eventually became a major shopping boulevard and tourist hotspot. Currently the largest employers in West Palm Beach are the City School System (including West Palm Beach High School and Forest Hill High School), Florida Crystals, and Pratt & Whitney Rocketdyne.
West Palm Beach's active manufacturing and construction industries have put the city in a high risk category for exposure to asbestos. If you or a loved one has been diagnosed with mesothelioma in West Palm Beach, you may benefit from contacting Dr. Lary Robinson. Additionally, if you were exposed to asbestos in West Palm Beach, you may benefit from seeking the advice of an asbestos attorney.
Asbestos Exposure at Jobsites in West Palm Beach
The Mesothelioma Cancer Alliance has compiled information obtained from a number of sources to identify the following jobsites in West Palm Beach where asbestos exposure was known to have occurred. These sites are listed below.
Aristan Ice and Electric Company
Blue Ribbon Homes
Breakers Hotel
Century Village Apartments
City Hall
County Courthouse
East Coast Electric Light and Power and Ice Company
Florida Power & Light Company
Florida Public Utilities Company
Forest Hill High School
Good Samaritan Hospital
Gould Brewing Company
Grumman Ecosystems Corporation
Henderson Roofing Works
Palm Beach County Solid Waste Authority
Palm Beach Gas Company
Palm Beach Resource Recovery Company
Pratt & Whitney Aircraft
Rinker Materials Corp
Southern Utilities Company
West Palm Beach Senior High School
Find a Mesothelioma Doctor near West Palm Beach
For your convenience, we have compiled a list of mesothelioma doctors that are located within a 100-mile radius of West Palm Beach, Florida. Please click on a doctor link to obtain more information about his/her background, areas of expertise, professional affiliations, and office locations.
Dr. Amit N. Patel
Sylvester Comprehensive Cancer Center
University of Miami Health System
Miami, FL 33136
Distance: 66.0 miles
Cancer Centers near West Palm Beach, Florida
We present below a list of mesothelioma cancer centers that are located within a 100-mile radius of West Palm Beach, Florida. Click on a specific cancer center link to obtain more in depth information about each one.
Mesothelioma Support Services near West Palm Beach
While receiving treatment, mesothelioma patients may find a need for temporary lodging, patient transport, physical therapy or counseling. We have compiled a list of these cancer support services near West Palm Beach, Florida for your convenience.
Florida Treatment Support Services
Counseling & Support Groups

Florida Counseling Centers


(Melbourne)
321-259-1662
Distance: 97.8 miles

Long-Term Housing

Joe's House


(Statewide)
877-563-7468
Physical Therapy

Flagler Institute for Rehabilitation


(West Palm Beach)
561-833-1747
Distance: 1.7 miles
Filing an Asbestos Lawsuit in West Palm Beach, Florida
If you were exposed to asbestos at a commercial, residential or military site in West Palm Beach, Florida and have been diagnosed with mesothelioma, you may be entitled to compensation. Don't lose your right to file a lawsuit to hold those responsible accountable. You must act quickly and file your claim within the appropriate statute of limitations for the state of Florida.
Mesothelioma Law Firms Servicing West Palm Beach
Early, Lucarelli, Sweeney and Meisenkothen is a national law firm recognized for its representation of over 3,000 hardworking men and women who have been exposed to asbestos and diagnosed with mesothelioma. ELSM's experience in asbestos litigation spans four decades.
At Gori Julian and Associates, P.C., we have handled hundreds of mesothelioma lawsuits on behalf of people throughout the United States. This experience allows us to choose jurisdiction in which to file your case based on many factors including but not limited to state of residence, jobsites, and previous and current employers.
As one of the nation's leading mesothelioma law firms, Simmons Hanly Conroy has a proven track record. Every mesothelioma lawyer at the firm is committed to helping families affected by mesothelioma and asbestos-related diseases.
Resources for West Palm Beach Mesothelioma Patients
Asbestos-Related News in Florida
The Florida Supreme Court has agreed to take up an asbestos case filed by a man who suffers from mesothelioma.
Florida Department of Environmental Protection (FDEP) has cited Maverick Demolition Company for asbestos violations related to the John Sunday House.
Author: Linda Molinari
Editor in Chief, Mesothelioma Cancer Alliance
Read about Linda
Reviewer: Jennifer R. Lucarelli
Lawyer for Mesothelioma Victims and Their Families
Read about Jennifer