If anyone is qualified to talk why asbestos should be banned in the United States, it's retired aerospace engineer and businessman Paul Zygielbaum. His life, work, and medical history encompass America's deadly legacy of asbestos – and with asbestos imports and use continuing in the United States to this day, his story is a cautionary tale for future generations.
Zygielbaum, now 65, was first exposed to asbestos when he was toddler, from the dust-covered work clothes his father brought home from his job as a maintenance worker in Los Angeles. In 1970, while a student at the California Institute of Technology, Zygielbaum worked as a technician in Pasadena, and his first job was to insulate a steel tank with asbestos cloth. Another exposure occurred six years later when he repaired wall damage in the 1950s home that he and his wife bought. And then in 1978, Zygielbaum received a significant exposure to asbestos while working in a power plant operated by an Oregon utility.
In 2004, Zygielbaum, who lives in Santa Rosa, California, was diagnosed with peritoneal mesothelioma, which has since spread to his chest. He's survived four surgeries and three chemotherapy regimens, and he is now undergoing immunotherapy treatment. He's become an indefatigable advocate for asbestos victims, and an outspoken critic of asbestos remaining legal in America.
"I think it's disgusting," he says, with urgency, when asked his thoughts on asbestos remaining legal in the United States, despite an overwhelming scientific consensus that asbestos is a carcinogen. "It makes me sad for the country. (Asbestos) sickens and kills and we do far too little to regulate it."
"It's reprehensible that Congress has allowed the man-made asbestos crisis to continue," says Linda Reinstein, president of the Asbestos Disease Awareness Organization (ADAO), which represents asbestos victims. "Each year, up to 15,000 Americans die from preventable mesothelioma and other asbestos-caused diseases and imports still continue."
Adds Alex Formuzis of the Environmental Working Group (EWG) in Washington: "The fact that more than 50 nations have banned asbestos and the United States has not shows just how powerful the asbestos industry has been over the years. It also sends a signal to other countries that have not taken steps to restrict or ban asbestos that they can continue to go on producing and exporting it around the world, including to ports in the U.S."
Asbestos Importation Still Strong in U.S.
Indeed, though asbestos hasn't been mined in the United States since 2002 and its use has declined significantly, American businesses still legally import, use, and sell both raw asbestos and products made with it, according to interviews with scientists, government officials, statistics compiled by the U.S. Geological Survey and an analysis from the EWG Action Fund.
"Many Americans believe asbestos was banned years ago," the EWG analysis states. "The truth is, hundreds of thousands of pounds of asbestos enter the U.S. every year, according to an analysis of import data by the EWG Action Fund."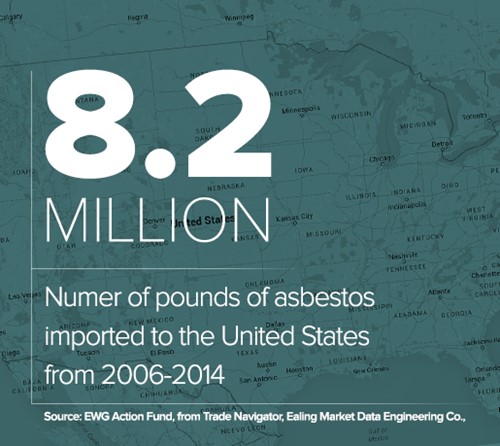 Between 2006 and 2014, more than 8.2 million pounds of asbestos were imported to the United States, including raw asbestos, products containing asbestos and hazardous asbestos waste, the EWG analysis said. The imports arrived at 23 ports on the Gulf of Mexico, West Coast, and Eastern Seaboard, including ports in New Orleans, Houston, Newark, and Long Beach, Ca. The figures are based on EWG's examination of federal trade records, including detailed bills of lading for goods arriving by ship from other countries.
In 2015, at least 95% of the asbestos imported and used in the United States was chrysotile asbestos originating in Brazil, according to the U.S. Geological Survey (USGS), which tracks asbestos imports and exports.
The imports of asbestos to the United States are part of a thriving worldwide trade in asbestos. As the Mesothelioma Cancer Alliance reported recently, global asbestos consumption is now about 2 million metric tons a year, and millions of people worldwide are being exposed on a daily basis.
Worldwide Asbestos Commerce
Though asbestos in now banned in 52 nations, dozens of countries still use, import and export asbestos and asbestos-containing products. In addition to the United States, those countries are primarily developing nations in Asia and Eastern Europe that are desperate for industrial growth and often turn a blind eye to the health and environmental consequences of asbestos exposure.
The worldwide trade has been enabled and led by a handful of powerful interests, for a long time the Canadian asbestos lobby and now the Russian asbestos producers, the Mesothelioma Cancer Alliance concluded.
Though the imports to the United States represent only a tiny portion of the overall worldwide trade in asbestos, those fighting for a worldwide ban say the fact that asbestos is still legal and imports continue to America sends a message to developing nations that it's permissible to continue to import and use asbestos.
"It is rather unbelievable, that the country which has imported the most asbestos in the world, a country which possesses all the scientific knowledge about the hazards and human tragedy caused by asbestos, has not put an end to its use.," Marc Hindry of the Paris-based French National Association of Asbestos Victims (ANDEVA), tells Mesothelioma Cancer Alliance.
He adds: "Edicting a ban on asbestos in the United States is necessary for at least two reasons: First, it is necessary to end this deadly trade and protect the American population; second, it is a much needed message to countries still producing asbestos such as Russia, Brazil, Kazakhstan, and China or using massively asbestos such as China, India, and Indonesia."
Others say that the United States policy on asbestos – or lack of a policy – is part of the continuing debate over exploitation of Third World workers.
"Regarding the lack of a ban in the United States, in the face of bans elsewhere, I think it is very much akin to America's exporting of contaminated ships for breaking," says Zygielbaum. "Through inaction, we are continuing to condemn many of our children's children's children to death by asbestos-related diseases. This does not mean, conversely, that a U.S. ban would necessarily affect the policies of current exporters and importers, but it does mean that we lack any standing in calling for better behavior by others."
Asbestos Consumption Declining Too Slowly
To be sure, certain uses of asbestos have been banned in the United States and others restricted. And there has been a significant downward trend in asbestos use in the United States, from the record high of 803,000 tons in 1973. In 2015, asbestos consumption in the United States was estimated at 360 tons, according to the USGS.
"This decline has occurred because asbestos substitutes, alternative materials, and new technology have displaced asbestos from traditional domestic markets," states the January 2016 USGS mineral commodity summaries.
But scientists and government agencies warn that any exposure to asbestos carries risks. "There is no 'safe' level of asbestos exposure for any type of asbestos fiber," the U.S. Occupational Safety & Health Administration states on its web page. "Every occupational exposure to asbestos can cause injury or disease; every occupational exposure contributes to the risk of getting asbestos-related disease."
The leading consumer of raw asbestos in the United States today is the chlor-alkali chemical industry, which uses asbestos to make diaphragms used in the manufacturing of chlorine and sodium hydroxide.
Automobile brakes for older cars and roofing materials marked for shipment to auto parts or building supply warehouses were among the asbestos-containing products imported into the United States between 2006 and 2014, according to bills of lading examined by the EWG.
"Although many professional and home mechanics believe asbestos brakes and clutches have been banned, they remain legal and can even be ordered from Amazon," the EWG analysis states.
Asbestos Still Common in Everyday Products
There is no way to know for sure, however, all the companies that use and all the products that contain asbestos. In 2007, Zygielbaum served as a product-testing manager for an ADAO research project that disclosed evidence of asbestos in certain household products, including window glazing, roof patch, spackling paste, duct tape, and a children's toy fingerprint kit imported from China.
Zygielbaum says the presence of asbestos in household products – and the public's lack of knowledge about it – is a problem that persists to this day.
"Our children are still being exposed, women are being exposed in the home by various products," Zygielbaum says. "We don't know because there's no regulation, nothing that stops asbestos from being present in products."
In an effort to give Americans the information that would allow them to avoid exposure to asbestos in workplaces, homes, and products, Sen. Richard Durbin (D-IL) and Rep. Suzan Delbene (D-WA) last year introduced legislation that would require companies that manufacture, import, or handle asbestos to annually inform the U.S. Environmental Protection Agency (EPA) what products contain asbestos and where those products may be publicly accessible in communities around the country. The information would be made available online for the public to access under the legislation, which is known as the Reducing Exposure to Asbestos Database (READ) Act. The legislation is pending, though its chances for passage appear slim in a Republican-controlled Congress, insiders say.
Failed Attempts to Ban Asbestos Don't Deter Zygielbaum
The administration of former president George H. W. Bush did attempt to ban asbestos. In 1989, the EPA issued a final rule banning most asbestos-containing products under the authority of the Toxic Substances Control Act (TSCA). But two years later, the EPA ban was overturned by the U.S. Court of Appeals for the Fifth Circuit, a decision that established a precedent that has made it extremely difficult for EPA to ban any dangerous chemical. The administration decided not to appeal the court ruling.
"The primary reason asbestos remains legal is the woefully inadequate federal Toxic Substances Control Act (TSCA)," says Formuzis. "Considered the weakest of all national environmental laws, TSCA has allowed not only asbestos to remain legal, but has let tens of thousands of other toxic chemicals into the marketplace with little or no safety testing beforehand."
Thirteen years after the asbestos ban in the United States was overturned, Paul Zygielbaum learned that he had mesothelioma. Since then, he has worked in many ways to protect current and future asbestos victims.
Among other things, Zygielbaum has provided information to congressional committees in Washington considering legislation dealing with asbestos and spoken at conferences; he's written numerous letters to members of Congress pushing for a ban on asbestos and he and his wife have counseled numerous asbestos patients and their families.
He argues that a U.S. ban on asbestos makes sense from both a public health and business perspective. "I happen to believe, as a businessman, that a ban would make good business sense," he says, pointing out that high costs of medical care and lost work time alone has an overall economic impact on American families well into the billions of dollar per year.
Asbestos Ban Not Guaranteed
Nonetheless, a ban on asbestos in the United States doesn't appear imminent, and the long-term prospect for a ban likely depends on a sustained effort involving widespread public support and a changing political climate in Washington.
"It took years to get a UK (United Kingdom) ban in 1999, and that was only because the EU (European Union) ban was coming in," says Laurie Kazan-Allen, coordinator of the International Ban Asbestos Secretariat (IBAS), which is based outside London. "Our success in the UK was a result of long-term consensus building amongst a wide range of civil society groups including asbestos victims, trade union, politicians, medics, campaigners and others."
"The prospects for a ban on asbestos in the United States – at least in the short term – is not good," says the EWG's Formuzis. "Congress is currently considering legislation to reform TSCA, but neither the House nor Senate bills directly call for a ban of asbestos.
"Beyond TSCA, however, if the president and Congress both support implementing a permanent ban on the importation of asbestos in the United States, it could happen, but it would likely require robust and sustained pressure from the American people to realize this goal" he says.