The MCA Blog
Connecting with others one story at a time

How to Kick Cancer's Butt... and Then Some!
A cancer diagnosis can bring out the fighting spirit in many patients. Despite grim statistics and difficult treatments, read these inspirational stories of women who looked their prognosis in the eye and kicked cancer's butt! Their diagnosis not only inspired these strong women to fight for their life, but it also inspired them to give back to the cancer community in huge ways. By starting organizations, businesses, and events to name a few, these women are spreading awareness and hope to so many fighting similar battles.
Denise McCroskey - Breast Cancer Survivor
When Denise McCroskey was diagnosed with Stage 3 triple positive breast cancer in October 2012, she began a blog so she could inform family and friends of her progress. Denise had no idea that her blog would impact and inform over 60,000 people about breast cancer from 126 countries in one year. Denise chronicled her journey with over 100 blog posts about her mastectomy, five months of chemotherapy, 33 radiation treatments, and lymphedema as a result of lymph node involvement. While writing, she gives helpful tips sprinkled with a little humor to help others navigate the tumultuous journey of breast cancer.
Over 500 women have contacted Denise for a listening ear. The majority of women and men who write are enduring chemotherapy and need encouragement to get through it. Breast cancer survivors frequently contact Denise because they need assistance in how to adjust to their new lives after cancer. Visit Denise's blog at denise4health!
Mary Treacy O'Keefe - Breast Cancer Survivor
In 1999, Mary Treacy O'Keefe was diagnosed with breast cancer. Within days of her mastectomy, she developed life-threatening infections. Besides good medical care, she credits healing touch with her dramatic recovery. This holistic treatment was her first exposure to the integrative therapies that helped foster healing of mind, body and spirit. Mary also used guided imagery and support groups to deal with the fear and anxiety that so often accompany a cancer diagnosis. As a result of her own and others' positive experiences with complementary therapies, Mary co-founded Well Within, a nonprofit wellness resource center in 2004. Thanks to many caring volunteers (including Mary), Well Within offers low cost and free holistic therapies, workshops, retreats and support groups to anyone seeking healing and wellbeing. An author and speaker, Mary also hosts the Hope, Healing and Wellbeing internet radio show. For more information, please visit Well Within or Mary's website.
Tari Prinster - Cancer Survivor
Tari is a cancer survivor and yoga teacher since 2003. She is the founder of Yoga4Cancer and the Retreat Project (nonprofit) -businesses that are bringing specialized yoga to cancer survivors through classes & retreats. Also she leads a robust teacher training program to enable yoga teachers to adapt all styles to fit the unique needs of cancer patients & survivors.
"I found yoga a powerful tool to manage the daily challenges of cancer treatments as well as the side effects and life-long vulnerabilities they create. Yoga gave me emotional support & spiritual comfort so needed during recovery. I was curious why yoga was doing so much for me. My research made it clear why yoga strengthens the immune system, thus providing, among other things, protection against a cancer recurrence."
Through research, she has developed a carefully constructed system of yoga poses and sequences, each one based on the unique needs of cancer survivors. Her practical guide to the benefits of yoga for all cancer patients will be published in her book, "Yoga Prescription: Using Yoga to Reclaim Your Life During and After Cancer" out later this year.
For more information, please visit y4c.com
Alisa Savoretti - Breast Cancer Survivor
A breast cancer survivor and Las Vegas Showgirl, Alisa Savoretti was 38 and without insurance at the time of her diagnosis. Following a mastectomy and only 5 months after finishing her chemotherapy, she returned to the Las Vegas stage and her career as a professional dancer – this time however, minus one breast. Alisa had to wait nearly 3 years to acquire her own reconstruction. She realized then that there is a huge gap in treatment that existed for "uninsured" women suffering from a mastectomy. Founded by Alisa in 2003, My Hope Chest helps women with the last step in breast cancer treatment – reconstruction. The national organization is the only one of its kind that links women who need reconstructive surgery with surgeons who are willing to do the work on a pro-bono basis.
Katie Wilkes - Melanoma Skin Cancer Survivor
When diagnosed with melanoma skin cancer, the most deadly type of skin cancer, at age 23, Katie was scared, confused, and felt guilty. An avid tanning bed user as a teen, she felt responsible for her cancer. She also felt discouraged by her friends who continued to use tanning beds after they learned of her diagnosis. In 2012, Katie launched her blog, Pretty in Pale, with the mission of educating young people about skin cancer without sounding preachy. In February 2013, she testified in support of a tanning bed ban for minors in Oregon, and she's coordinating the 2nd Annual Portland Melanoma Walk. Katie is currently cancer free and hopes to continue advocating for early detection and prevention of skin cancer.
Heather Von St. James - Mesothelioma Cancer Survivor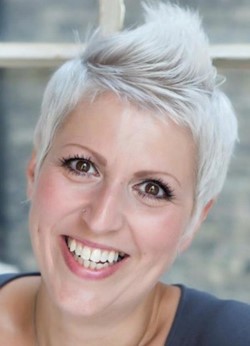 At the age of 36, and only 3 ½ months after giving birth to her first and only child, Heather Von St. James was diagnosed with pleural mesothelioma. With a prognosis of 15 months if she decided to forgo treatment, Heather knew she had a rough road ahead of her. Her quest to survive in order to be there for her daughter led her to Brigham and Women's Hospital in Boston where she underwent a risky and fairly new surgical procedure called an extrapleural pneumonectomy.
Today, Heather is a seven-year survivor and continues to share her story as a means of inspiration for mesothelioma. Because mesothelioma has such a grim prognosis, Heather carries out her mission to be a beacon of hope for those afflicted with mesothelioma by sharing her story of faith, hope and courage both as a keynote speaker at conferences and through social media forums. Every year, on the anniversary of her surgery, Heather celebrates "Lungleavin Day" It's a celebration of life and hope, and each year the guest list grows. What started out as a celebration with family and loved ones has now become an event for the greater mesothelioma community with money being raised for mesothelioma research. Her blog is a place of inspiration for so many people dealing with mesothelioma.
< Older
Newer >
Resources for Mesothelioma Patients and Their Families