The MCA Blog
Connecting with others one story at a time

ADAO's "Asbestos: An International Public Health Crisis" Conference Recap
This past weekend I traveled to Los Angeles, California to attend the Asbestos Disease Awareness Organization's international conference, "Asbestos: An International Public Health Crisis". From March 30 to April 1, I was surrounded by renowned experts and other asbestos victims and survivors like myself. It is an amazing event that brings us together to share our experiences and learn about how we can help spread awareness and education about the disease and learn about new treatment options.
Below is a recap of each day that I was there as well as a 3 point recap of each day.
DAY 1
The highlight of my weekend and thing I was probably looking forward to most was meeting Debbie Brewer, another mesothelioma warrior who I have been friends with on Facebook for about 3 years. She lives in the UK so we had never met in person until now; it was so amazing to meet her. We talked a lot about mesothelioma treatments, why she went to Germany, why I went to Boston, and how, despite the miles between us, our stories are very similar. We face the same challenges and had similar situations with friends, or rather people we thought were friends who are no longer are in our lives. How we have good days, bad days, and everything in between. I didn't realize that all of the asbestos in England has been imported-- none of it is mined or manufactured there. Essentially, most every case of mesothelioma in England could have been prevented.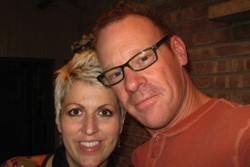 When 4:30 arrived, we went to the gathering for honored guests and speakers. I met a woman who saw me last year and heard my story; she said it literally shook her out of a decades long struggle against fear of talking about mesothelioma and asbestos. Her father died over 30 years ago and she had been scared since. It also left her wondering why, 30 years later, we are still struggling with a ban on asbestos and having the same conversation. Another woman, who is from Canada and now lives in Utah, whose father also died from mesothelioma was given encouragement through my story to go get a CT scan, to check for the disease. She too had the fear that she would get it, and decided it was time to do something about it. Thankfully it was totally clean. If I could go through what I did then she could too. I am utterly blown away. Humbled and honored by these women.
Recap of Day 1:
Question I answered: How did I get started in the advocacy work? I started in advocacy work because of Linda Reinstein asking me to speak at this same conference last year. It started me on the path of wanting to make a difference, educating people, bringing about awareness and it's working.
One Thing I learned: I learned that England imported all the asbestos. I didn't know that. There are thousands of mesothelioma sufferers and most of them could have been prevented had asbestos not been imported. It has now been banned in the UK.
Pictures: Debbie Brewer and I finally meeting; Cam and I in our MCA Shirts
DAY 2
Day 2 started bright and early with a full line up of professionals, doctors, patients, loved ones and caregivers all slated to give their presentations; so much information from all over the globe. There was an impassioned plea to ban asbestos globally from Fernanda Giannasi who is known as the Erin Brokovich of Brazil. Another presentation told of the maddening lack of enforcement when it comes to asbestos abatement, how unqualified workers are being exposed and exposing countless others to the deadly mineral. Another presentation shared how blatant lies are believed, like how only blue asbestos is harmful and white asbestos, or chrysotile, is not. The W.H.O deems ALL forms of asbestos are dangerous, yet the lies continue.
Such an incredible day, all capped off with a banquet to honor Steve McQueen, who died of mesothelioma in 1980. His wife, Barbie, was there to receive the Warren Zevon Keep me In Your Heart Award and share her experience as a mesothelioma widow. For Barbie, her years of silence was let go among the support of the mesothelioma community.
Recap of Day 2:
The good news: The good news was on the medical front and this was a questions I asked about: Doctors at University of Pennsylvania are having great success with gene therapy, really cutting edge technology. I asked if they had had success with gene therapy in re-occurrence in mesothelioma and learned that yes they have, with good results. It is still in trial but shows great promise.
The bad news: The US has a very poor grasp on asbestos control. It is still used in many products: Spackling, duct tape, and was even found in a child's toy fingerprinting kit. This is inexcusable. Asbestos kills and the fact the US continues to import and use it is just disgusting. Most of our asbestos comes from Canada. I also found out that the supposed "safe handling" is a farce. Most places don't enforce proper asbestos abatement procedure and by doing so put their workers, and workers families, at risk.
Picture: From left to right: Linda Reinstein, Ann Samuelson, (who saw me last year and whose father died 30 yrs ago) Matt Peacock, Australian Journalist, and 3 survivors, Julie Gundlach, me, Debbie Brewer.

< Older
Newer >
Resources for Mesothelioma Patients and Their Families