The MCA Blog
Heather Von St. James
Courageous Mother, Wife and Survivor of Mesothelioma
Author: Heather Von St. James
Date: 12/15/2016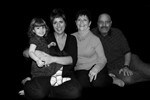 I love decorating my Christmas tree. I love pulling out all the ornaments year after year, and finding the perfect spot for each one. Like many people, the ornaments hold memories: some good, others funny, and one in particular is the most bittersweet.
Author: Heather Von St. James
Date: 11/15/2016
No matter how good I feel on a day-to-day basis, every six months, the reality of being a long-term cancer survivor comes crashing back. Even though I'm going to be celebrating 11 years since my diagnosis on November 21, I still get uneasy when the time comes around for me to get on a plane, head to Houston for my scans and to see Dr. Sugarbaker.
Author: Heather Von St. James
Date: 11/1/2016
September was such a jam-packed month of mesothelioma awareness activities, that it's now taken me more than a month to even process it all and get it all written down. In addition to participating in Mesothelioma Awareness Day on September 26th, I went to three different events throughout the course of the month. You can read about my experiences at the Kayaking 4 Meso and Miles for Meso events.
Author: Heather Von St. James
Date: 10/26/2016
September is filled with a lot of wonderful opportunities to support mesothelioma awareness through fundraising events and gatherings across the country! In my last post, I wrote about how I joined the Kayaking 4 Meso event in Upstate New York. In this post, I'm going to share my experience with the Miles for Meso event halfway across the country in Illinois.
Author: Heather Von St. James
Date: 10/20/2016
I love fall...especially September, but for more reasons that just the cooler weather and leaves changing color. September is a month that is full off mesothelioma awareness and fundraising events all over the country!
Resources for Mesothelioma Patients and Their Families
Author: Heather Von St. James
Date: 8/17/2016
I learned early on in my cancer treatment what a cruel, unfair thing cancer can be. It doesn't care who you are, how old you are, or how much money you do or don't have. Cancer has one purpose, to destroy the host, no matter who that host is – and many times, it succeeds.
Author: Heather Von St. James
Date: 7/6/2016
A strange thing happened to me during my cancer treatment: I had the strong desire to help people, to give back, to inspire. I wanted to be an advocate.
Author: Heather Von St. James
Date: 5/24/2016
When one hears the word "mesothelioma," everyone immediately thinks of the commercials on TV: "If you or a loved one has been diagnosed with mesothelioma, a deadly cancer caused by asbestos exposure… " and then they think everyone who gets this cancer is automatically wealthy because of a lawsuit. Well, I'm here to set that record straight.
Author: Heather Von St. James
Date: 8/12/2013
My daughter Lily just celebrated her 8th birthday this month. Eight years old! At times I find it hard to believe she is already 8. Other times it seems like she should be older because she is so wise for her age. Of course we had a HUGE birthday party to celebrate, because I like to make a big deal about birthdays. I have since her first birthday, quite simply because I didn't know if would be around to see her turn 1, let alone 8!
Author: Heather Von St. James
Date: 3/7/2013
"For I know the plans I have for you," declares the Lord, "plans to prosper you and not to harm you, plans to give you hope and a future."Jeremiah 29:11
This scripture was on a card sent to me by a friend shortly after he found out I had cancer. When I opened the card, and read those words, I sobbed. I sobbed because it was EXACTLY what I needed to read and needed to know, that I would be ok. It was those words that got me through some very scary times in these last 7 years. Those words were, and still are, my lifeline.
< Previous
Next >