Anacortes, Washington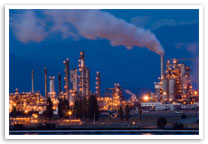 Anacortes is a city located 78 miles north of Seattle, Washington on Fidalgo Island. Surrounded by the Puget Sound to the north and the San Juan Islands on three sides, Anacortes gets 21 inches of rain annually which is half as much as neighboring Seattle. Anacortes built its first post office in 1879 and twelve years later, in 1891, the town became an official incorporated city.
Following the arrival of the transcontinental railroad, Anacortes became a thriving lumber and fishing community. These industries drove the local economy until the 1950s when oil companies began constructing refineries in town. Some of the earliest facilities included Shell Oil Refinery, Equilon, and Texaco Oil Refinery Washington. Many refineries are still in operation today but have changed corporate hands; originally a Texaco facility, Puget Sound Refining Company is one of Anacortes' largest area employers. Puget Sound Refinery employs 375 people and has about 100 contract workers on site. The processed crude oil from the facility generates 143,000 barrels per day and is used to manufacture gasoline and jet fuel. In addition to the considerable refining industry, yacht construction and shipbuilding, tourism, and residential services for Whidbey Island Naval Air Station add to the present-day economic base of Anacortes.
The longstanding industrial history of Anacortes places the city in a high risk category for asbestos exposure. Individuals who worked with or around asbestos containing materials may be at risk to developing mesothelioma cancer. If you have been diagnosed with mesothelioma in Anacortes, you may benefit from contacting Dr. Eric Vallieres. Additionally, you should know that asbestos law firms represent people from Anacortes who were exposed to asbestos and then diagnosed with mesothelioma.
Asbestos Exposure at Jobsites in Anacortes
The Mesothelioma Cancer Alliance has compiled information obtained from a number of sources to identify the following jobsites in Anacortes where asbestos exposure was known to have occurred. These sites are listed below.
Allied Chemical
Bechtel Corporation
Collier Carbon & Chemical Company
E.K. Wood Lumber Company
Equilon
Fisher Packing Company
Morrison Mill Company
Northwest Petrochemical
Puget Sound Refining
Puget Sound Refining Company
Puget Sound Works
Shell Oil Company
Shell Oil Refinery
Shell Oil Refinery - Anacortes
Shell Refinery
Snelson-Anvil, Inc.
Tecnal Corp
Tesoro West Coast
Texaco Incorporated
Texaco Oil Refinery
Texas Company
Mesothelioma Cancer Centers near Anacortes, Washington
For your convenience, we have compiled a list of mesothelioma cancer centers that are located within a 100 mile radius of Anacortes, Washington. Please click on a cancer center link to obtain more information about the clinical programs offered, professional designations, areas of expertise and how to contact the center.
Mesothelioma Doctors near Anacortes, Washington
For your convenience, we have compiled a list of mesothelioma doctors that are located within a 100 mile radius of Anacortes, Washington. Please click on a doctor link to obtain more information about his/her background, areas of expertise, professional affiliations, and office locations.
Filing an Asbestos Lawsuit in Anacortes, Washington
Don't lose your rights! If you or a loved one has been diagnosed with mesothelioma and were exposed to asbestos in Washington, you may be entitled to compensation. You may have limited time to file a claim. If you have been diagnosed with mesothelioma and have a pathology report in hand to support that diagnosis, you are eligible for financial assistance.
Asbestos Related News in Washington
A1 Asbestos LLC is being accused of falsifying disposal documents to an Okanogan County landfill and offering false statements to state department officials.
Barbara Brandes dies of mesothelioma cancer contracted through secondary household asbestos exposure and $3.5 million is awarded to her estate as a result.