El Paso, Texas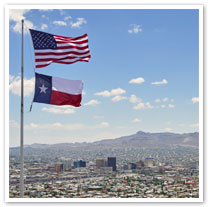 Incorporated in 1873, El Paso is the sixth-largest city in Texas and the 19th-largest city in the United States with a population of nearly 650,000. Situated on the Rio Grande, across the border from Ciudad Juárez, Chihuahua, Mexico, El Paso is a city in and the county seat of El Paso County. The El Paso area's attractions celebrate the region's rich history and culture, as well as its natural resources of the Franklin Mountains and the Rio Grande.
By the early 1900s, El Paso had developed into the major manufacturing, transportation, and retail center of the Southwest. Following World War II, military expansion in the area, oil discoveries, copper refining, and trade with Mexico prompted rapid economic growth. Primary manufacturing industries in El Paso today include food production, clothing, construction materials, electronic and medical equipment, and plastics. In addition to manufacturing, tourism and education are significant drivers of El Paso's economy. Until 1996, El Paso was home to El Paso Natural Gas Company which relocated to Houston under the name El Paso Corporation. Fort Bliss, one of the largest military complexes of the United States Army as well as one of El Paso's largest employers, lies to the east and northeast of the city. Additionally, more than 70 Fortune 500 companies call El Paso their home including Hoover, Eureka, Boeing, and Delphi.
El Paso's history of manufacturing and industry, particularly at oil refineries and military base jobsites, makes asbestos exposure an ongoing concern. Workers and others exposed to asbestos may be at risk for developing mesothelioma cancer. Asbestos lawyers may also be able to assist you if you or a loved one were exposed to asbestos in El Paso, Texas.
Asbestos Exposure at Jobsites in El Paso
The Mesothelioma Cancer Alliance has compiled information obtained from a number of sources to identify the following jobsites in El Paso where asbestos exposure was known to have occurred. These sites are listed below.
Acme Laundry Company
Alamogordo Lumber Company
American Lumber & Treating Corporation
American Smelting & Refinery Company
Ap Green Refractories Company
Asarco Inc
Babcock & Wilcox
Border Steel Mill
Carter Lathing & Plastering
Chevron Refinery
Chevron Usa, Inc.
City of El Paso Water Works
City Water Department
Cons. Kansas City S and R Company
Consumers Ice and Cold Storage Company
Copper Queen Cons. Mining Company
Darbyshire-Harvey Iron and Machine and Company
Daughters of Charity
El Paso and Southwestern Company
El Paso and Southwestern Railroad
El Paso Brick Company
El Paso Electric Company
El Paso Electric Railway Company
El Paso Ice and Refrigerator Company
El Paso Milling Company Ltd.
El Paso National Bank Building
El Paso Natural Gas Company
El Paso Power Station
Erectors Constor
Falstaff Brewing Corp
Fluor Corporation
Fort Bliss Army Base
Frontier Roofing
Galveston Harrisburg and San Antonio Railway Company
Globe Ice and Cold Storage Company
Gulf
Harry Mitchell Brewing Company
Hotel Dieu Hospital
Ingersoll Sergeant Drill Company
International Light and Power Company
Landmark Station Powerhouse
Mcnutt Oil Refining
Newman Power Plant
Newman Steam Plant
Nichols Copper Company
Pasotex Petroleum Company
Peyton Packing Company
Phelps Dodge Refining Corporation
Providence Hospital
Rio Grande Power Station
Southern Pacific Railroad
Southern Paperboard Company
Southwestern Portland Cement Company
Standard Oil Company of Texas
Standard Oil of Texas
Stone and Webster Agts.
Sulphuric Acid Plant
Swift Packing Company
Texaco Oil Refinery
United States Army War Department
University Towers
Western Gas Company
William Beaumont General Hospital
Willow Tree Apartments
Wyler Industrial Works
Filing an Asbestos Lawsuit in El Paso, Texas
Don't lose your rights! If you or a loved one has been diagnosed with mesothelioma and were exposed to asbestos in Texas, you may be entitled to compensation. You may have limited time to file a claim. If you have been diagnosed with mesothelioma and have a pathology report in hand to support that diagnosis, you are eligible for financial assistance.
Asbestos Related News in Texas
Within the past year, there has been a significant increase in the number of therapeutic clinical trials for mesothelioma cancer.
The city of Devine, Texas, has warned its residents that high levels of asbestos has been present in their drinking water for at a year or longer.