Salem, Oregon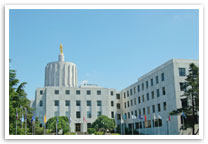 Salem is the capital of Oregon, the county seat of Marion County, and the principal city of the Salem Metropolitan Statistical Area. Salem is located 47 miles from Portland in the center of the Willamette Valley an hour from the Cascade Mountains to the east and an hour from the ocean beaches to the west. With an estimated population of more than 155,000, Salem is one of Oregon's largest cities. Salem is home to five institutions of higher education including Willamette University, the oldest university in the American west; and four state correctional facilities including the Oregon State Penitentiary, Oregon's only maximum security prison. In addition to the Oregon State Capitol and Willson Park, Salem's downtown contains the Mission Mill Museum, Hallie Ford Museum of Art, the Elsinore Theatre, Riverfront Park, and some of the oldest buildings in Oregon, as well as shopping and restaurants.
Incorporated in 1857, Salem's initial industry was dominated by cherry growing which earned the city the nickname "Cherry City". Eventually, lumber and textile industries impacted Salem's economy. In 1920, the Oregon Pulp and Paper Company began operations near Pringle Creek. During the 1950s, Salem improved and extended crucial utilities needed in a growing city like the sewage treatment system and natural gas connections. The Marion County Courthouse, still in use today, was built in the mid-1950s. Although many inner cities deteriorated during the 1960s and 1970s, Salem has since revitalized downtown, uncovered streams once hidden beneath streets and behind factories, and constructed new parks, plazas, footpaths, and bicycle lanes. In the 1990s, Salem made efforts to diversify its economic base attracting a number of computer-related manufacturing plants and high technology companies. Today, Salem Hospital is the city's largest private employer.
Salem, Oregon's ongoing industrial and construction activities make asbestos exposure an ongoing concern for workers and others. Workers exposed to asbestos may be at risk for mesothelioma, a cancer of the lungs. Mesothelioma information including cancer centers in and around Salem are listed at the bottom of this page. If you were exposed to asbestos in Salem, you may benefit from seeking the advice of an asbestos attorney.
Asbestos Exposure at Jobsites in Salem
The Mesothelioma Cancer Alliance has compiled information obtained from a number of sources to identify the following jobsites in Salem where asbestos exposure was known to have occurred. These sites are listed below.
Boise Cascade Paper Mill
Bowen Brothers
California Packing Corp
Capital Building
Capitol Manor
Cascade Warehouse
Columbia Metals
Court House
Fairview Hospital
L.H. Hoffman
Northwest Natural Gas Company
Oregan State T.B. Hospital
Oregon Pulp & Paper Company
Oregon State Hospital
Oregon State Insane Asylum
Oregon State Penitentiary
Paulus Brothers Packing Company
Pennsylvania Salt Manufacturing
Salem Hospital
Sears Roebuck & Company
State Agricultural Building
State Capitol
State Office Building
Telephone Building
Terminal Ice & Cold Storage
Willamette University
Mesothelioma Cancer Centers near Salem, Oregon
For your convenience, we have compiled a list of mesothelioma cancer centers that are located within a 100 mile radius of Salem, Oregon. Please click on a cancer center link to obtain more information about the clinical programs offered, professional designations, areas of expertise and how to contact the center.
Mesothelioma Doctors near Salem, Oregon
For your convenience, we have compiled a list of mesothelioma doctors that are located within a 100 mile radius of Salem, Oregon. Please click on a doctor link to obtain more information about his/her background, areas of expertise, professional affiliations, and office locations.
Dr. Paul H. Schipper
OHSU Knight Cancer Institute
OHSU Knight Cancer Institute
3181 SW Sam Jackson Park Road, L353
Portland, OR 97239
Distance: 40.1 miles
Filing an Asbestos Lawsuit in Salem, Oregon
Don't lose your rights! If you or a loved one has been diagnosed with mesothelioma and were exposed to asbestos in Oregon, you may be entitled to compensation. You may have limited time to file a claim. If you have been diagnosed with mesothelioma and have a pathology report in hand to support that diagnosis, you are eligible for financial assistance.
Asbestos Related News in Oregon
Year two of asbestos work has begun at the North Ridge Estates Superfund site in Oregon and will continue for another three years. Read more at Mesothelioma.com.
The first season of asbestos abatement work at the North Ridge Estates Superfund site in Klamath Falls, Oregon, is drawing to a close. Read more at Mesothelioma Cancer Alliance.