Dayton, Ohio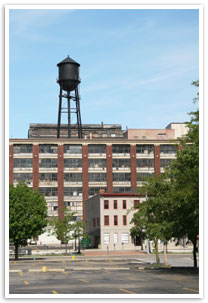 The City of Dayton is the county seat of Montgomery County, Ohio, and the 6th largest city in the state, with a population of just over 141,500. Dayton is a key logistical hub, located at the heart of one of the United States' largest manufacturing regions. Nearby Wright-Patterson Air Force Base has attracted substantial aeronautics, engineering and high-tech industry to the area. Apart from the airbase, top employers in Dayton include Wright State University, Premier Health Partners and Kettering Health Network.
Dayton was founded in 1796 and incorporated in 1805. Dayton rapidly became a hotbed of industry and innovation. The Barney & Smith Car Company opened in 1849, two years before the railroads reached Dayton, transporting its finished railroad cars on canal boats to the Ohio River. The great flood of 1913 crippled the company financially, and it went out of business in 1921. The Buckeye Iron and Brass Works, established in 1844, cast the crankcase for the Wright Brothers' first engine in 1903. U.S. Patent Office records indicate that in 1890, Dayton was issued the highest number of patents per capita of any U.S. city. The Reynolds and Reynolds Company began printing business forms in 1866, and today provides retailing software, forms and products for the automotive industry, the result of a 1927 agreement to provide Chevrolet dealers with standardized accounting forms. Wartime production and the creation of Wright-Patterson AFB in 1948 kept Dayton's industries thriving, and the city maintains a strong manufacturing base, augmented in recent decades by research and development, healthcare and other professional services.
Dayton's lengthy history of manufacturing and construction in industries known for their use of asbestos-containing materials puts it in a high-risk category for asbestos exposure. Workers exposed to asbestos may be at risk for various diseases, including pleural mesothelioma. If you were exposed to asbestos in Dayton, you may benefit from seeking the advice of an asbestos attorney.
Asbestos Exposure at Jobsites in Dayton
The Mesothelioma Cancer Alliance has compiled information obtained from a number of sources to identify the following jobsites in Dayton where asbestos exposure was known to have occurred. These sites are listed below.
Accro Cast Corp
Aetna Paper Company
Albert R. Hostetter Company
Allied Egry Business Systems
Andrew Plocher
Appleton Papers, Incorporated
Babcox & Wilcox
Baltimore & Ohio Railroad Company
Barney and Smith Car Company
Beaver Remmer Plant
Bendix Corp
Board of Education of City of Dayton
Board of Public Service
Booher Insulation, Inc.
Brownell Stoker & Combust
Buckeye Cellulose Corporation
Buckeye Iron and Brass Works
Burger Chef
C. W. Booher, Inc.
C.W. Raymond Company
Cargill, Inc.
Central Branch
Charles F. Ketterling Memorial
Charles Sucher Packing Company
Chrysler Corporation
Cincinnati Soap Company
City of Dayton Water Works Pumping Sta
City Railway Company
Cole-Layer Trumble Company
Columbus and Southern Ohio Electric Company
Complete Insulation Service Inc.
Cross Pointe Paper
Davis Sewing Machine Company
Dayco Plant
Dayton Airport - Midwest Steel Building
Dayton and Troy Electric Company
Dayton and Xenia Trac. Company
Dayton Arcade Company
Dayton Breweries Company
Dayton Builders Supply
Dayton Citizens Electric Company
Dayton Electric Light Company
Dayton Engineering Laboratories Company
Dayton Forge & Heat Treat
Dayton Forging
Dayton Ice Manufacturing Cold Storage Company
Dayton Lighting Company
Dayton Malleable Company
Dayton Masonic Temple
Dayton Mental Health Center
Dayton Metal Products Company
Dayton Power & Light Company
Dayton Press, Inc
Dayton Rubber Manufacturing Company
Dayton Signal Depot
Dayton State Hospital
Dayton Steam Plant
Dayton Tire & Rubber Company
Dayton Union Railway Company
Dayton Walther Corp
Dayton Wright Airplane Company
Delco Manufacturing
Delco Moraine
Delco Products
Delphi Auto Systems Corporation
Delphi Automotive System
Delphi Chassis Systems
Domestic Engineering Building Company
Doty Manufacturing Company
Durion Company, Inc
Durst Milling Company
Emerson School
Everbest Drywall
Excelsior Laundry Company
Frank Hill Smith
Frigidaire Division
G.H.R. Foundry
Garland-Haswell-Reutschler Foundry Company
General Motors Corporation
General Motors Island Manufacturing
Globe Foundry
Gm Delphi Chassis
Gm/Inland Manufacturing
Good Samaritan Hospital
H.J. Osterfield Company
Harrison Radiator
Hewitt Soap Company
Holland Bread Company
Howard Paper Mills
Hughes-Bechtol Incorporated
Inland Manufacturing Company
International Paper Company
J.M. Stuart Station
J.P. Wolf
James C. Oren
Kelso Wagner Company
Kettering Medical Center
Kroger Grocery & Baking Company
Lakewood Apartments
Longworth Station
Lowe Brothers Paint Factory
M.J. Gibbons Supply Company
Master Electric Company
Master Tire and Rubber Company
Mccall Printing
Mccook Field Storm Pump Station
Mead Paper Company
Meadowdale School
Miami Papers Company
Miami Valley Hospital
Moraine Products Div Gmc
Municipal Airport
National Cash Register Company
National Home For Disabled Volunteer Soldiers
Ncr Corporation
Oakwood St. Railway Company
Ohio Wesleyan University
Peckham Coal and Ice Company
Pentair
Peoples Railway Company
Pinneo and Daniels Company
Platt Iron Works
Power & Light Company
Premier Health Partners
Premier Rubber Company
Pressed Brick Company
Protective Treatment Inc
Recording and Computing Machine Company
Reynolds and Reynolds Company
Rike-Kumler Company
Riverdale Station
Schantz and Schwind Brewing Company
Sisters of Charity Good Samaritain Hospital
Sonic Wright Patterson Afb
Steele High School
Stillwell-Bierce and Smtih Vaile Company
Stivers Manual Training High School
Stoddard Manufacturing Company
Sucher Packing Company
Tait Power Plant/Dp&L
United Brethren Public Company
United States Army Engineers
University of Dayton
Wehner Brewing Company
Wildcraft Products
William Combs Construction
Wm Focke's Sons Company
Wright Construction
Wright Field
Wright Patterson Air Force Base
Wright State Campus
Wright‐Patterson Airforce Base
Y & S Tool
Y. M. C. A. Building
Ymca Hotel
Mesothelioma Cancer Centers near Dayton, Ohio
For your convenience, we have compiled a list of mesothelioma cancer centers that are located within a 100 mile radius of Dayton, Ohio. Please click on a cancer center link to obtain more information about the clinical programs offered, professional designations, areas of expertise and how to contact the center.
Mesothelioma Doctors near Dayton, Ohio
For your convenience, we have compiled a list of mesothelioma doctors that are located within a 100 mile radius of Dayton, Ohio. Please click on a doctor link to obtain more information about his/her background, areas of expertise, professional affiliations, and office locations.
Dr. David P. Carbone
Ohio State University Comprehensive Cancer Center
The James–Arthur G. James Cancer Hospital and Richard J. Solove Research Institute
300 West 10th Avenue
Columbus, OH 43210
Distance: 63.1 miles
Filing an Asbestos Lawsuit in Dayton, Ohio
Don't lose your rights! If you or a loved one has been diagnosed with mesothelioma and were exposed to asbestos in Ohio, you may be entitled to compensation. You may have limited time to file a claim. If you have been diagnosed with mesothelioma and have a pathology report in hand to support that diagnosis, you are eligible for financial assistance.
Asbestos Related News in Ohio
Goodyear Tire & Rubber Co. is being sued by Berkshire Hathaway Inc. over property and casualty insurance claims related to asbestos. Read more at Mesothelioma.com.
Neighbors in Galion are just now finding out about asbestos that was discovered at on old manufacturing plant in 2010.