Canton, Ohio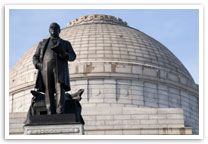 The City of Canton is the county seat of Stark County, Ohio. Located in northeastern Ohio on the Nimishillen Creek, Canton has a population of just over 73,000 people. Once a major manufacturing center, Canton in recent years has focused on increasing its service economy. Redevelopment projects in the 30-block downtown area have helped restore historic buildings, including a former Carnegie library, and created a 3-block arts district of studios, shops and galleries. Canton today has a diverse mix of local employers, including Malone University, Belden Brick Company, and poultry producer Park Farms.
Although Canton's date of incorporation as a city is uncertain, it seems that industrial development occurred mainly after the Civil War. In the 19th century, iron and steel production and watchmaking were prominent industries. The Hampden Watch Manufacturing Company and Dueber Watch Case Company employed thousands of workers between the late 19th century and the 1930s. The Timken Roller Bearing Axle Company opened its Canton plant in 1901. Though still headquartered in Canton, Timken has reduced its workforce substantially in recent years. ATM and safemaker Diebold, Inc. began its Canton operations in 1872. Other long-standing Canton firms such as the Hoover Company and LTV Steel (formerly Republic Steel) have closed plants or moved production in the 21st century, contributing to a general manufacturing decline. Retail, healthcare and education have become more prominent as economic sectors, and dairy farming and poultry production are also key industries.
We have identified numerous jobsites in Canton where asbestos exposure has occurred, putting workers at risk for mesothelioma, a cancer of the lungs. For your convenience, we have listed mesothelioma oncologists located in or near Canton at the bottom of this page. Additionally, asbestos attorneys may be able to give guidance if you were exposed to asbestos in Canton and then diagnosed with mesothelioma.
Asbestos Exposure at Jobsites in Canton
The Mesothelioma Cancer Alliance has compiled information obtained from a number of sources to identify the following jobsites in Canton where asbestos exposure was known to have occurred. These sites are listed below.
A.K. Property Corp
Acme Wet Wash Laundry
Allen School
American Electric Power Company
American Forge and Machine Company
American Roll and Foundry Company
American Sheet and Tin Plate
Ap Green F B Company of Mich
Ap Green F B Company of Ohio
Ap Green Refractories Company
Apple Creek State Hospital
Ashland Oil & Refining Company
Aultman Health Services
Aultman Hospital
Babcock & Wilcox Canton Works
Baltimore & Ohio Railroad Company
Belfonti
Bell Stone School
Bergr Mbg. Company
Bliss Company
Bormot Company
Brand Plastic
Brownflo Sicker & Comb Company
Cambridge State Hospital
Canton Bearing Plant
Canton Casting
Canton City Sewage Disposal Plant
Canton Die
Canton Drop Forging & Manufacturing. Company
Canton Electric Company
Canton Electric Light and Power Company
Canton Forge and Axle Works
Canton Forge Plant
Canton Hughes Pump Company
Canton Laundry and Cleaning Company
Canton Light Heat and Power Company
Canton Malleable Iron Company
Canton Saw Company
Canton Screen Plant
Canton Sewage
Canton South High School
Canton Steel Company
Canton Steel Foundry Company
Carnahan Tin Plate and Sheet Company
Carnegie Ill. Steel Corporation
Cedar Locust
Cedar School
Central Alloy Canton
Central Alloy Steel Corp
Central Catholic High School
Cleveland Axle Manufacturing Company
Cloverleaf High School
Cloverleaf School
Columbia Hca Healthcare
Columbia Southern Chemical Corporation
Columbia Southern Personal Building
Crane Company
D&H Machine
Defense Plant Corp
Diamond Crystal Salt
Diebold Safe and Lock Company
Dover Library
Dunlap Hospital
East Fairfield Church
East Ohio Gas Company
Ed Hart Company
Edward R. Hart Company
Erwine School
Evans Savings & Loan
Falcon Tin Plate Company
Firestone Synthetic Rubber & Latex
Firestone Tire & Rubber Company
First National Bank
First U.P. Church
Ford Canton Forge Plant
Ford Motor Company
Ford-Canton Forge Plant
Franklin School
Gambrinous Plant.
Garaway High School
Garfield School
General Electric
General Motors Corporation
General Tire Research
Goodyear Aerospace
Goodyear Aircraft Company
Goodyear Tire & Rubber Company
Gorell School
Grace Evangelical Church
Green A P Refractories of Ohio
Green Jr High School
H. A. Preston School
Hammond Acoustical Company
Harrison School
Hartford Junior High School
Helfrich Die Cast
Hellenic Cultural Center
Hercules Motor Corporation
Hess and Clark
Holmes East High School
Hoover
House of Loretta
Hupp Corporation
Hygienic Dental Job
Industrial Fabricating Job
Irwin School
J M Smucker Company
J&L Steel
J. C. Penney
J.H. Mclain Company
Jones and Laughlin Steel Company
Kent State University
Knight Tire and Rubber Company
Lawson Dairy
Lima State Hospital
Lincoln School
Linde Air Products Company
Longcoy Elementary School
Ltv Republic Steel
Ltv Sheet and Tube
Mansfield Hospital
Marathon Ohio
Masonic Temple
Medical Center Association. Ltd
Merchants Heat Light and Power Company
Mt. Union College
New Philadelphia School
Northern Ohio Traction and Light Company
Ohio Bell Stow
Ohio Power Company
Ohio Products
Ohio Tar & Asphalt
Old Trial School
Orville Municipal Light
Osnaburg Township School
Phipps A J Company
Pinegrove Twp School
Pittsburgh Plate Glass Company
Poor & Company
Quaker Oats Company
Reiter Corporation
Renkert Building
Replublic Steel Corporation
Republic Stamping and Enameling Company
Republic Stamping and Enamelling Company
Republic Steel Corporation
Republic Technologies
Reynolds Memorial Hospital
Roll Machine Works
Roosevelt School
Rubber Main Job
Rubbermaid
Sebring Tire
Seiberling Rubber
Springfield Manufacturing.
St. Francis Convent
St. Joseph Hospice
St. Joseph School Addition
St. Thomas Aquinas High School
St. Thomas Hospital
Stark County Jail
Stark Rolling Mill Company
Stark School
Steam Vanadium Corporation
Superior Dairy Company
Superior Sheet Steel
The Timken Corporation
Timken "Gambrinus" Bearing Plant
Timken Company
Timken Mercy Hospital
Timken Mercy Medical Center
Timken Products
Timken Roller Bearing Company
Timken Steel Harrison Plant
Tri Way School
Tuscarawas Valley High School
Twinsburg Pumping Station Heating
U.S. Naval Ordnance Plant
U.S. Steel Corporation
U.S. Steel Roll & Mach.
Union Metal
United Alloy Steel Corp
United Engineering
United Furnace Company
United States Post Office Job
United Steel Company
Valley Job
Wallace & Tiernan Inc.
Washington High School
Wean United
Westinghouse
Wheeling Hospital Job
Whitman and Barnes Manufacturing Company
Wilson Rubber Company
Wooster College
Wooster Municipal Building
Wright Wrench and Forging Company
Wright Wrench Manufacturing Company
Y.M.C.A.
Mesothelioma Cancer Centers near Canton, Ohio
For your convenience, we have compiled a list of mesothelioma cancer centers that are located within a 100 mile radius of Canton, Ohio. Please click on a cancer center link to obtain more information about the clinical programs offered, professional designations, areas of expertise and how to contact the center.
Mesothelioma Doctors near Canton, Ohio
For your convenience, we have compiled a list of mesothelioma doctors that are located within a 100 mile radius of Canton, Ohio. Please click on a doctor link to obtain more information about his/her background, areas of expertise, professional affiliations, and office locations.
Filing an Asbestos Lawsuit in Canton, Ohio
Don't lose your rights! If you or a loved one has been diagnosed with mesothelioma and were exposed to asbestos in Ohio, you may be entitled to compensation. You may have limited time to file a claim. If you have been diagnosed with mesothelioma and have a pathology report in hand to support that diagnosis, you are eligible for financial assistance.
Asbestos Related News in Ohio
Goodyear Tire & Rubber Co. is being sued by Berkshire Hathaway Inc. over property and casualty insurance claims related to asbestos. Read more at Mesothelioma.com.
Neighbors in Galion are just now finding out about asbestos that was discovered at on old manufacturing plant in 2010.