Shreveport, Louisiana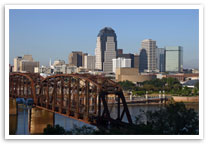 Shreveport is a city on the Red River in the state of Louisiana. The seat of Caddo Parish, Shreveport has a current population of just over 199,000, making it the third-largest city in the state. Established in 1836 at the junction of the Red River and the Texas Trail, Shreveport was a center of steamboat shipping and commerce. Today, the city has turned its focus to service industries and tourism. Major employers include the State of Louisiana, Barksdale Air Force Base, and the Louisiana State University Health Sciences Center.
Shortly after its founding, Shreveport soon became a trading center, shipping cotton and other goods up and down the river by steamboat. The river's tendency to fill itself in, combined with increased rail use, rendered the river un-navigable by 1914. At that time, cotton, cotton products, and oil were among Shreveport's chief commodities. A 1915 fertilizer handbook lists three cotton oil mills, including the Caddo Cotton Oil Company, and the Union Seed & Fertilizer Company. Standard Oil of Louisiana was established in 1909, operating as a locally-based company until it was absorbed by Standard Oil of New Jersey in 1944. Another company, Specialty Oil Company, was acquired by Pennzoil-Quaker state in 1993. Pennzoil operated the refinery until 2001, when it was sold to Calumet Specialty Products, a maker of white mineral oils, petroleum waxes, and other specialty hydrocarbons. The R.F. Zimmerman Company, founded in 1944, sells HVAC products of many well-known manufacturers. Today the river channel has been reopened, and riverboat casino gambling added to the city's economic mix.
Shreveport's lengthy history of construction and industrial activity places it in a high-risk category for asbestos exposure. Workers and their loved ones who are exposed to asbestos may be at risk for mesothelioma and other asbestos-related diseases. If you were exposed to asbestos in Shreveport and have been diagnosed with mesothelioma, you should also consider contacting an asbestos law firm.
Asbestos Exposure at Jobsites in Shreveport
The Mesothelioma Cancer Alliance has compiled information obtained from a number of sources to identify the following jobsites in Shreveport where asbestos exposure was known to have occurred. These sites are listed below.
A.M.F. Beaird
Abc Midland
Alco Products Inc
American Compress & Warehouse Company
American Cotton Oil Company
Amoco Refineries
Ap Green Refractories Company
Architectural Products Manufacturing. Company
Arkansas Fuel Oil Company
Arkansas Louisiana Gas Company
Arkla Chemical Corporation
Army Ammunition Plant
Arthur Circle Elementary School
Atlas Contractors
Atlas Oil and Refining Corporation
Atlas Processing Company
Atlas Refinery
Barksdale Air Force Base
Bayou State Oil Corporation
Beard J B Company
Bird & Son Roofing
Brown & Root
Caddo De Soto Cotton Oil Company
Catalytic, Inc.
Cities Service
Coca Cola Project
Confederate Memorial Hospital
Delta Southern Manufacturing Company
Dittco Architectural Products, Inc.
East Texas Refining Company
Ford Motor Company
G S Roofing
General Motors Corp
Henderson Cotton Oil Company
Independent Supply & Svc
Industrial Roofing and Sheet Metal
Industrial Steel
International Paper Mill
Irish Pipeline
J B Beard
J. Graves Insulation Company, Inc.
J.M. Brown Construction
Kansas City Railroad
Kansas City Southern Railway
Kcs
Lagloria Refinery
Libbey Owens Ford Glass
Libby Glass Plant
Oak Terrace Special School
Olin Corporation
Pennsylvania Oil
Pennzoil Company
Pennzoil Refinery
Pennzoil Refinery Louisiana
Preformed Metal Products Company, Inc.
Premet Company, Inc.
R. F. Zimmerman & Company, Inc.
Ralston Purina
Reformed Metals Company
Richard Machinery & Supply Company
Rothschild Boiler & Tank Works
Schumpert Medical Center
Schumpert Sanitarium
Shreveport Charity Hospital
Shreveport Gas Electric Light and Power Company
Shreveport Prod & Refg Company
Sisters of Charity of The Incarnate Word
Southwestern Gas & Electric Company
Spartan Oil Refining Company
Standard Asbestos Company
State Office Building
Steel Forgings, Inc
Superior Iron Works & Supply
Sw Gas & Electric Company
Swepco
Taylor Contracting and Supply
Taylor-Seidenbach, Inc.
Union Seed and Fertilizer Company
United Gas Pipeline Company
United States Veterans Hospital
Universal Oil Products Company
Wilson Packing Company
Woolco Department Store
Filing an Asbestos Lawsuit in Shreveport, Louisiana
Don't lose your rights! If you or a loved one has been diagnosed with mesothelioma and were exposed to asbestos in Louisiana, you may be entitled to compensation. You may have limited time to file a claim. If you have been diagnosed with mesothelioma and have a pathology report in hand to support that diagnosis, you are eligible for financial assistance.
Asbestos Related News in Louisiana
Asbestos was recently discovered in the Orleans Parish criminal courthouse, causing it to shut down while contractors remove it. Read more at Mesothelioma.com.
Former employee of ten years at Avondale Shipyard is suing the company for damages from asbestos exposure, which has led to silicosis disease.