Pensacola, Florida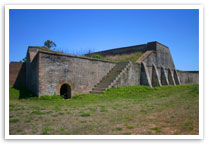 The city of Pensacola is the original capital of Florida and the first European settlement in the United States A Spanish sailor, Don Tristan de Luna, arrived in Pensacola in 1559 and stayed for one month until a hurricane destroyed the settlement's supplies, causing the Spanish to leave the area Many early establishments, including the first United States Naval Air Station, were attracted to Pensacola's ideal location on Pensacola Bay, which connects to the Gulf of Mexico Pensacola earned the nickname "The City of Five Flags" as a result of the five governments that have flown their flags in the city throughout its history: Spain, France, Great Britain, The Confederacy, and the United States In 1821, Pensacola officially became part of the United States.
Pensacola's history is rich with early connections to the U.S. military Pensacola Navy Yard was founded in 1825 after President John Quincy Adams and Secretary of the Navy Samuel Southard realized the city's location on Pensacola harbor and proximity to large timber reserves made it the ultimate site for shipbuilding Pensacola Naval Air Station continues operations today and is the primary training base for all Navy, Marine, and Coast Guard aviators The station also serves as home base to the Navy's Flight Demonstration Squadron, the Blue Angels Other military establishments found in Pensacola include the United States Naval Air Station Corry Field, United States Naval Hospital, Fort Pickens, and Eglin Air Force Base. In the years following World War II, Pensacola became home to Crist Power Plant, a coal-operated generating plant run by Gulf Power Company The plant is located at the mouth of the Escambia River and has a generating capacity of 930,000 kilowatts /p>
We have confirmed that Pensacola has numerous job locations where asbestos exposure has occurred If you were exposed to asbestos in Pensacola, you may benefit from seeking the advice of an asbestos attorney.
Asbestos Exposure at Jobsites in Pensacola
The Mesothelioma Cancer Alliance has compiled information obtained from a number of sources to identify the following jobsites in Pensacola where asbestos exposure was known to have occurred. These sites are listed below.
AC & S Inc.
Air Products
Alabama Pulp & Paper Company
American Can Company
American Cyanamid Company
Archer Daniels Midland Company
Armstrong Cork Company
Armstrong World Industries
Arrington Manor Apartments
Ashland Chemical Company
Baptist Hospital
Bell Steel Company
Belmont Building
Building 8
Bureau of Yards and Docks United States Naval Air Station
Chamipon Paper
Chemstrand Chemical
Christ Steam Plant
Coca Cola Bottling Company
Crist Plant / Gulf Power
Crist Power Plant
Crystal Ice Company
Daniels Construction
Delchamps Store
Dyson & Company
E E Saunders & Company
E.M. Barracks
Egland Air Force Base
Eglin Air Force Base
Emergency Power Plant
Escambia Chemical Corporation
Escambia Treating Company
Fischer Packing
Five Cadent Barracks
Florida Pulp & Paper Company
Fort Pickens
General Instruction Building
German American Lumber Company
Gulf Chemical Corporation
Gulf Power & Light Powerhouse
Gulf Power Company
Hardaway Contracting Company
Industrial Marine Supply Company, Inc.
Key Ford Motor Company
L & N Siding
Mobile Plastering
Moncrief Army Hospital
Monsanto Chemical Company
Monsanto Textiles Company
National Buring Packing Company
National Cork Company
Naval Air Station
Newport Industries, Inc.
Newport News Industrial Corporation
Pensacola Compress Whse
Pensacola Naval Air Station
Petree School
Rayco Corporation
Reichold Chemical
Sacred Heart Hospital
Saint Regis Paper Company
Saufley Field
Shook & Fletcher Insulation Company, Inc.
Southern Utilities Company
Specialty Contractors
St. Regis Paper Company
Stroock & Wittenberg Corporation
T T Todd
Teamsters Building
Tenneco Chemicals Inc
United States Naval Air Station Corry Field
United States Naval Hospital
University of West Florida
Wesco Siding
West Florida Hospital
Filing an Asbestos Lawsuit in Pensacola, Florida
Don't lose your rights! If you or a loved one has been diagnosed with mesothelioma and were exposed to asbestos in Florida, you may be entitled to compensation. You may have limited time to file a claim. If you have been diagnosed with mesothelioma and have a pathology report in hand to support that diagnosis, you are eligible for financial assistance.
Asbestos Related News in Florida
The Florida Supreme Court has agreed to take up an asbestos case filed by a man who suffers from mesothelioma.
Florida Department of Environmental Protection (FDEP) has cited Maverick Demolition Company for asbestos violations related to the John Sunday House.